Hello!
Happy New Year everyone!! We hope you all had a happy Christmas and enjoyed the Festive season. Apologies for being unable to send a Newsletter last month - unfortunately we all had a nasty flu bug, but got over it on time for Christmas at least! Now we're back on track and looking forward to 2011!





This month I'm going to talk about our wonderful travels through the Dolomite mountains. On our last trip to Lake Garda this past summer, we took the decision to drive from the UK to Lake Garda, and boy are we glad we did! On the way down we got to spend some time in Austria before heading down the Brenner pass and on to Lake Garda. This was a fantastic drive and is fast too, but because it is on a main road, you don't get the opportunity to stop and really explore when you get high up in the mountains. So on the way back we decided to go through the Dolomites properly, taking in both Cortina d'Ampezzo and Lake Misurina en-route.





The reason we wanted to share this with you is because it is possible to drive up to these areas for the day from the top of Lake Garda. Alternatively, if you are driving to Lake Garda, why not build it into your trip there too! Although a little slow and windy in parts, the scenery is spectacular and will forever stick in the memory!! As you can see from the photo above, the jagged mountain peaks as you approach Cortina (a former winter Olympic host) are a wonder to behold and they seem almost too vertical to be true at times! It is a beautiful town to explore (and also ski in the winter) and the vista across to the mountains is so inspiring!





A short drive to the north, whilst climbing still further, brings you to the picture postcard location of Lake Misurina (pictured above). At some 1750m high, even if you visit in the summer you may want to take some warm clothes, as it will be much colder than lake Garda! Whilst small, it is perfectly formed, with a dramatic backdrop of the mountains and with a couple of lovely hotels on the lake's edge. It would have been great to have spent the night there but we had already booked an agriturismo an hour or so north of here, so maybe next time.





To be honest, we were not disappointed with our accommodation! For only just over 40 Euros we got a view to die for (see photo above), and a beautifully appointed 2 bed apartment. We had very friendly and hospitable hosts who even brought us fresh milk in the morning straight from their cows! We really recommend agriturismos if you love be out in the country. They offer great value too!

We hope you have a fantastic trip to Lake Garda next time. If you drive, be sure to take in some of these fantastic mountain scenes in the Italian Dolomites, they really are spectacular!



Add your Lake Garda Story to our Website
You can now add your stories and comments to our website! Simply go to the forum page which has all the main categories listed (which you can add stories or comments to). We've even added a category for all other stories which don't fit into the main ones listed.

So go on, tell everyone about that mouth watering restaurant, amazing shop, adrenalin filled sporting activity, fantastic hotel, your favourite town, and so much more! We can't wait to hear all your stories! Thanks in advance for getting involved in our Lake Garda community.
Take a look here at our new Forums Pages.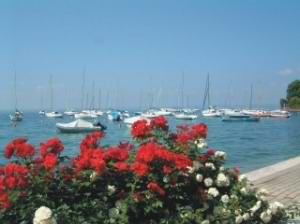 Main Events
Here are the main events going on in the Lake Garda area this month. There are also loads of smaller things happening in each town everyday, from art exhibitions to sporting events. Please contact us if you want to know what's going on in any particular town during this month and we'll do our best to help you.


Exhibition of Christmas cribs going until the 23rd January 2011

One of the most beautiful exhibitions takes place in the Arena of Verona. But there are also unusual cribs to admire, such as the underwater crib in Peschiera. For Italians the Christmas crib has a similar significance to the Christmas tree for Germans.
Verona in Love 13th – 14th February 2011

"If you are in love with someone, bring that person to Verona!" – with these words the city of Romeo and Juliet invites for the third time to "Verona in Love". Where better to spend the "day of love" than in the "city of lovers".


There are, of course, all the usual markets that are definitely worth going to. To find out more about when and where they are, click here.




This Month's Featured Hotel
Every month we research and then feature a hotel or apartment at Lake Garda to give you an idea of the accommodation there. We always make sure the hotel has a guest rating of 8 or more (out of 10), so you know it's a decent place to stay!
A pleasant stroll along the lakefront links the town centre to the Ambienthotel PrimaLuna, situated in a protected location opposite the finest beach in Malcesine. The Ambienthotel PrimaLuna represents the perfect location to relax and enjoy yourself.
The hotel has a lovely bar on the beach by the clear waters of the lake and a fine restaurant on the lake shore which can delight the palates of the even the most demanding guests. There's a separate garden, reserved parking for its guests, a large terrace with swimming pool, a comfortable hydro-massage to be enjoyed indoors and surfboard storage. The Ambienthotel PrimaLuna is the ideal environment for families too!
To see more photos and info about this hotel, just click on the link under the photo below.



Ambienthotel PrimaLuna at Malcesine


To Conclude...

We hope that you get a chance to experience the majestic Dolomite Mountains when you go to Lake Garda. Whether you drive through en-route or take a day trip from Lake Garda, they are really worth seeing!


See you next month!


Marcus and Sylvia
---