Hello!
In our May/June newsletter issue, we told you all about the town of Garda. If you've visited Garda recently, we hope you loved the town as much as we do!
In this July/August issue, we're going to talk about one of our favourite towns on the lake: Limone. Out of all the towns on Lake Garda, Limone is one that always sticks out for me!
We'll also list, as usual, our main events that are going on during the months of July and August around the Lake Garda area. Hopefully if you're there this summer, you'll be able to get to some of them!
So... let's start by talking about the wonderfully quaint town of Limone!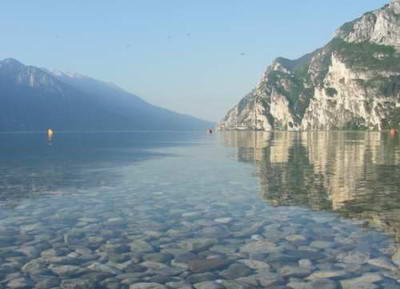 Limone is located at the north part of Lake Garda, on the western shore, and definitely worth visiting. I fell in love with this place the moment we stepped off the ferry. It is situated on the most dramatic section of Lake Garda, and the harbour area is like a postcard; it is, in our opinion, certainly one of the most photogenic resorts on the lake.






You may know that the name 'Limone' actually means Lemons, and many people assume that it was named this because the town was once famous for growing lemons. But actually, the name probably derived from 'Limen', meaning border; Limone was once a border town between Italy and Austria.

Before the unification of Italy, Lemons, citrons (similar to lemons and used in the production of a lemon brandy) and other citrus fuits were grown on terraces above the lake, the trees enclosed in green-housed during the winter to protect them from frost. But after the unification, Sicily replaced Limone as chief producer of lemons, and now there is little that remains of the old terraces.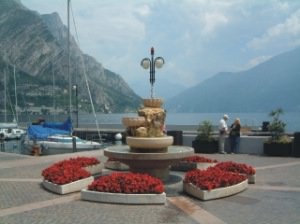 Now that you know the background of its name, let's get back to telling you about the town itself! The quaint old part of Limone tumbles down quite a steep hillside; we always like to walk to the top and admire the higgeldy-piggeldy terracotta-tiled rooftops. The heart of the old town is the little harbour, the Porto Vecchio ('Old Port'). From here, narrow lanes lined with tourist shops wind along the shore and up the slopes behind.

Make sure you visit the little shops in these out-of-the-way narrow back roads. You will discover some unusual and beautiful items in some of them; we once bought a huge solid copper plate that was intricately carved and molded into a fruit motif. It was challenging getting it home, to say the least, but worth it!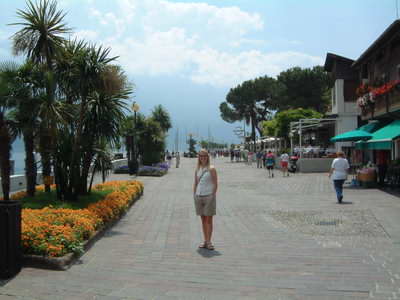 There are pleasant and picturesque waterfront terraces, and plenty of places to eat and drink while admiring lake views. Following paths to the north of the harbour you leave the hustle and bustle behind, and pass scattered hotels, peaceful cafe terraces, abandoned lemon groves and little swimming beaches. In the other direction is the more modern part of Limone: a wide waterfront promenade, car park and many more hotel developments. This end of the town sprawls over the area where the mountains are set back further from the lake: here olive groves are interspersed with hotels and swimming pools.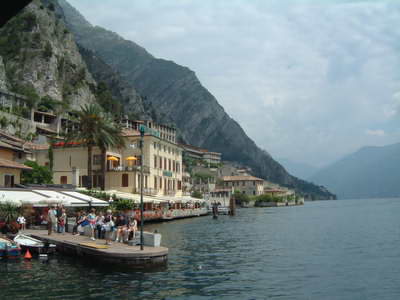 As I mentioned earlier, Limone was once famous for its lemons. And, if you're in the medical world, you may have heard of Limone as becoming famous in another quite different and, certainly, very interesting way: In 1931 Limone was only accessible by boat, and this isolation led to a remarkable development in the local people. In 1979, a study was done on the locals, and it was discovered that they had a protein in their blood called Apolipoprotein A-1 Milan gene Limone. This protein rids the arteries of fats, thus virtually eliminating arteriosclerosis and heart disease! Fasinating, isn't it!

Hopefully we've enlightened you a little about Limone! You can also find out a little about the other towns by checking out our pages about them here.




Add your Lake Garda Story to our Website
Don't forget to add your stories and comments to our website! Simply go to the forum page which has all the main categories listed (which you can add stories or comments to). We've even added a category for all other stories which don't fit into the main ones listed.

So go on, tell everyone about that mouth watering restaurant, amazing shop, adrenalin filled sporting activity, fantastic hotel, your favourite town, and so much more! We can't wait to hear all your stories! Thanks in advance for getting involved in our Lake Garda community.
Take a look here at our new Forums Pages.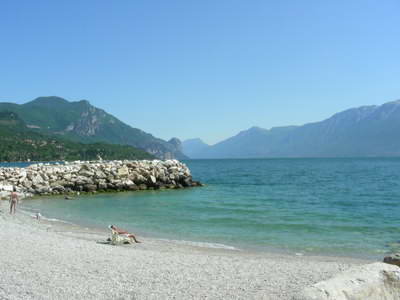 Main Events
Here are the main events going on in the Lake Garda area over this month and next month. There are also loads of smaller things happening in each town everyday, from art exhibitions to sporting events. Please contact us if you want to know what's going on in any particular town and we'll do our best to help you.


Fireworks around the lake - from June 5th to November 11th

Each summer thousends of tourists admire the stunning fireworks around Lake Garda.
Arena di Verona opera season: June 17th to September 3rd

The opera season in the Arena, organized by the Arena di Verona Foundation, brings over half a million people to Verona every year and over fifteen thousand spectators flow into the amphitheater every evening of the season: a truly cosmopolitan audience, with people from both inside and outside Europe.
IFSC World Climbing Championship - July 15th to 24th - Arco

The word's best free-climbers will meet at the new Arco Climbing-Stadium for the 2011 word championship. The event will be one of the absolute highlights of this year's Lake Garda sports season.
"Sardellata" Fish Festival - July 16th to 18th - Garda

The tasty Lake Garda fish will be in the center of the traditional sardellata festival. The lucky ones who celebrate the festival on a boat will get the fish for free.
Cecina Art Week - July 31st to Aug 7th - Toscolano-Maderno

Contemporary art from 6 different countries under the title "Multi Culture - Multi Colori". Sculptures, digital art and more.
Notte di Fiaba - Fairy tale nights at Riva - August 25th to 28th

One of the most popular festivals for children around the lake. The 2011 edition will be completely dedicated to the fairy tale of Cinderella. Theater plays and workshops will conquer the whole old town of Riva del Garda.


And there are, of course, all the usual markets that are definitely worth going to. To find out more about when and where they are, click here.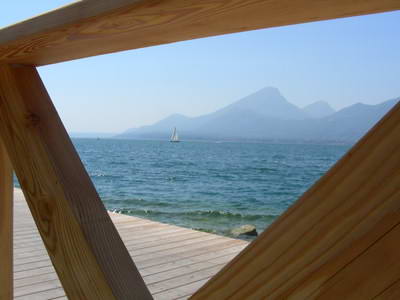 This Issue's Featured Hotel
In every newsletter Issue we research and then feature a hotel or apartment at Lake Garda to give you an idea of the accommodation there. We always make sure the hotel has a guest rating of 8 or more (out of 10), so you know it's a decent place to stay!
Villa Elite Hotel is an enchanting villa located between the amazing Italian Alps and Lake Garda, in the beautiful small town of Limone sul Garda.
This family-run hotel has been recently refurbished in a classical style, which gives the property a feel of a home away from home, thanks to the use of carefully chosen materials and colours.
The hotel staff are incredibly welcoming, helpful and friendly. If you are looking for a relaxing and revitalising stay by the lake Garda, then Villa Elite Hotel is no doubt your first choice.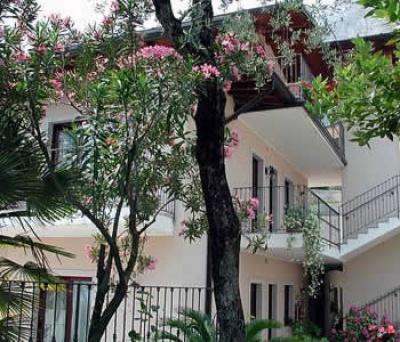 To Conclude...

We hope that you all have a wonderful summer! We're sure that it will be great, especially if you're planning on going to Lake Garda for your holiday.


See you next time!


Marcus and Sylvia
---