Hello!
Well, the temperatures are going up and thoughts of summer and being outside all the time no doubt put a smile on your face. The forecast at Lake Garda for the next few days is around 26C and mainly sunny…nice! We love eating outdoors, especially when it is on the shores of a beautiful lake! Everything just seems to taste that bit better when you're outside, and it's so relaxing.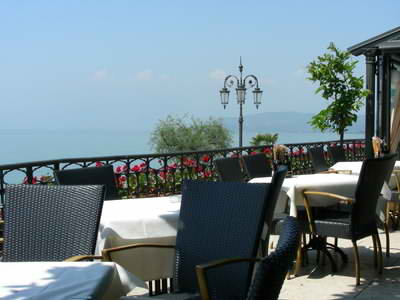 Speaking of being outside, there is one activity more than any other that our website users have been asking about in recent months: boat rentals on Lake Garda. Having been on the lake in most of the different types of boats, including public ferries and private hires, we really can relate to the appeal of renting your own boat. Gliding over the crystal clear waters of Lake Garda is very relaxing, and with so much stunning shoreline and wonderful towns to see, having your own boat allows you to explore and experience the lake like never before. You will also discover some beautiful villas on the lakeside that you would never see from the road!





Anyway, after receiving so many requests for boat rentals we decided to find a really good rental company. Past experience has taught us boat rental companies do vary quite a bit in both price and condition of boats, so it pays to go to the right place. After having looked at a few places we wanted somewhere that not only provided nice boats at a good price, but also a benefit to our users. We therefore decided to recommend 'Garda Boat' based in the Manerba del Garda area. They have very modern, clean boats and have agreed that if you mention our website - Lake Garda Revealed - they will give you a discounted rate! So if you want to rent a boat then we highly recommend giving them a try. You'll find out more about them on our boat rental web page.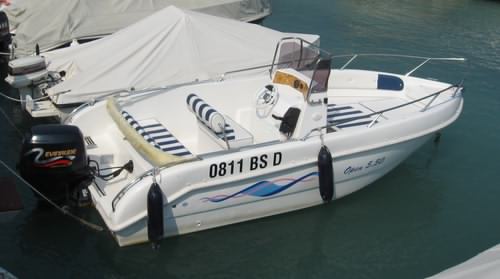 If the whole speed-boat thing isn't really your cup of tea, there are lots of other boating options.
Kayaking and canoeing are both wonderful options and give you some great experiences! Firstly, the superb surroundings make it a joy. Then combine this with the clear and calm waters of the lake, and it quickly becomes obvious that this is a top location for this type of activity. There are so many different beaches you can start off from, giving you a chance to explore the lake whilst you have a workout at the same time. You can get single or double kayaks and various sizes of canoes at most hire places.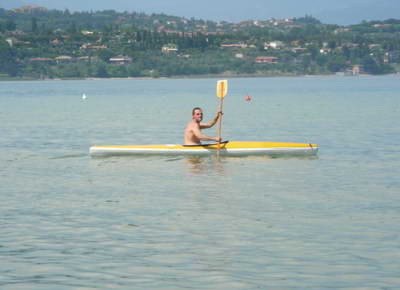 Pedalos are also great fun and can be hired out at many towns, especially on the south part of the lake. We love doing this and although you have to pedal, it isn't that hard and you can get quite a long way in one of these! Most pedalos hold 4 people and you can even get some with a small slide on the back, which kids love! It's great pedalling along the coast at somewhere like Garda, where you can see beautiful properties from the lake, most of which you can't see from the road.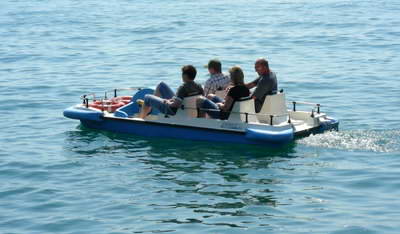 Add your Lake Garda Story to our Website
Don't forget to add your stories and comments to our website! Simply go to the forum page which has all the main categories listed (which you can add stories or comments to). We've even added a category for all other stories which don't fit into the main ones listed. So go on, tell everyone about that mouth watering restaurant, amazing shop, adrenalin filled sporting activity, fantastic hotel, your favourite town, and so much more! We can't wait to hear all your stories! Thanks in advance for getting involved in our Lake Garda community.
Take a look here at our new Forums Pages.



Main Events
Here are the main events going on in the Lake Garda area over this month and next month. There are also loads of smaller things happening in each town everyday, from art exhibitions to sporting events. Please contact us if you want to know what's going on in any particular town and we'll do our best to help you.


Festa del nodo d'amore in Valeggio - 19th june 2012. In June, the Visconti bridge at Valeggio will become an open air restaurant. A spectacular dinner with gastronomical specialities like the famous tortellini di Valeggio will take place there - with over 4000 guests.

Opera Season in the Arena at Verona - 22nd June-2nd Sept. Verona Opera Festival in one of the most incredible open-air theaters of the world! The ancient Roman Arena di Verona. Amongst others will be on stage Aida, Carmen, Tosca and Turandot.
Tour Transalp - 24th June-30 June. A challenging racing bike competition crossing the alps in seven stages with finish in Arco at lake Garda.

Garda Jazz Festival - 28th June-15 July. International summer jazz festival taking place all along the northern lake shore. Since the first edition in 2000, more and more people come to listen to the fantastic jazz band.


And there are, of course, all the usual markets that are definitely worth going to. To find out more about when and where they are, click here.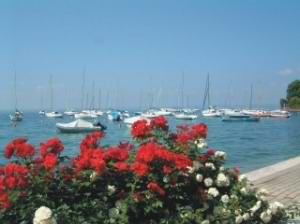 This Issue's Featured Hotel
In every newsletter Issue we research and then feature a hotel or apartment at Lake Garda to give you an idea of the accommodation there. We always make sure the hotel has a guest rating of 8 or more (out of 10), so you know it's a decent place to stay!
Conveniently located in Gardone Riviera right in front of the enchanting lake Garda, the luxury Grand Hotel Gardone is an elegant 19th century building ideal for a prestigious four star hotel stay in Gardone Riviera.
This lake Garda hotel amenities include a restaurant with terrace and panoramic views over lake Garda, where guests can enjoy a wide range of delicious Mediterranean specialties, a stylish piano bar for relaxing moments and after dinner breaks, private beach and outdoor swimming pool with sun terrace and pool-bar.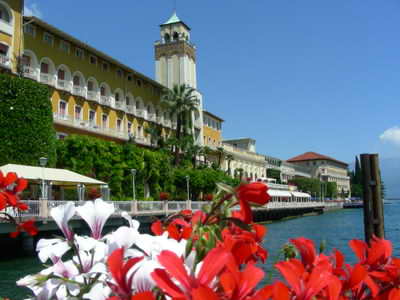 To Conclude...

No doubt there are many of you who are planning your big trip to Lake Garda this summer. Make sure you take full advantage of the lake by renting a boat and experiencing your beautiful surroundings from the water - there's nothing quite like it!
See you next time!


Marcus and Sylvia
---