"Lake Garda boat rental is brilliant fun and you get some amazing views from the lake too!"



There are many different types of Lake Garda boat rental you can do.
From a small 5 or 6 person boat to a large, powerful speedboat, which can whip you across the lake at high speed!
You may also want to try kayaking or canoeing; doing this is popular here.
Another fun thing to do on the water is to hire a pedalo. Children love this and they can burn off some energy too!

---
Lake Garda boat rental
---
Motor boats
Motor boats are very popular on the lake but you will find them much more on the bottom half of the lake due, to the huge amount of windsurfing and sailing that takes place in the north. The most popular type of motor boat rentals are small 5 or 6 person boats, with something like a 40 hp outboard motor. Although these are not super fast, they still go quite quickly and are not too expensive, plus you don't need a nautical licence. From here, you can get both bigger and more powerful boats, with 6 to 8 person, 70 - 200+ hp speedboats being available on Lake Garda. Once you get up to the more powerful boats, many boat rental companies will require you to have a nautical licence and some ask for a more substantial deposit.






You can find a Lake Garda boat rental place in many port areas of the larger towns, but it pays to compare prices a bit, as we found the same boat in a different town was exactly double the price! Also check whether the rental covers your fuel or not, and what the rental company requires by way of security when you hire the boat. Some will keep an official ID document (passport or driving licence) while you are out in their boat. Also be careful of damaging the propellor on rocks. While the lake is generally very deep, there may be shallow areas (your rental company should advise you on this) and some stipulate that you stay a minimum distance away from the shore.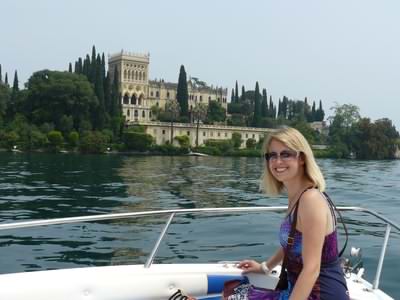 If you are seriously thinking about doing a Lake Garda boat rental we would recommend you get in touch with Garda Boat. Based in the Manerba del Garda area, (west side towards the south end of the lake - see location map ), they offer very clean, modern motor boats at decent rates. They specialise in medium to long term rentals, such as a week, but will do shorter rentals as well. If you mention Lake Garda revealed.com when you get in touch with them, they will also give a discounted rate on all their rental boats! So if you fill in their "information" or "booking requests" pages, to get the best rates, make sure you mention "Lake Garda Revealed" in the bottom box on the form called "For any further information or wishes." To find out more please visit the Garda Boat website. Then you too can be enjoying the scenery, like that found in the picture above!



Kayaking or Canoeing
Kayaking or canoeing on Lake Garda is a great experience! Firstly, the superb surroundings make it a joy. Then combine this with the clear and calm waters of the lake, and it quickly becomes obvious that this is a top location for this type of activity. There are so many different beaches you can start off from, giving you a chance to explore the lake whilst you have a workout at the same time. You can get single or double kayaks and various sizes of canoes at most hire places.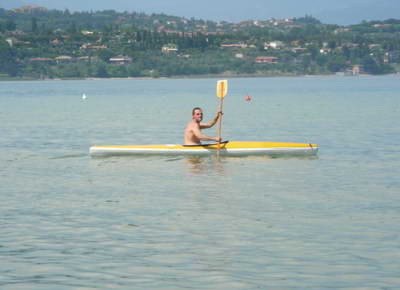 Pedalos
Pedalos are great fun and can be hired out at many towns, especially on the south part of the lake. We love doing this and although you have to pedal, it isn't that hard and you can get quite a long way in one of these! Most pedalos hold 4 people and you can even get some with a small slide on the back, which kids love! It's great pedalling along the coast at somewhere like Garda, where you can see beautiful properties from the lake, most of which you can't see from the road.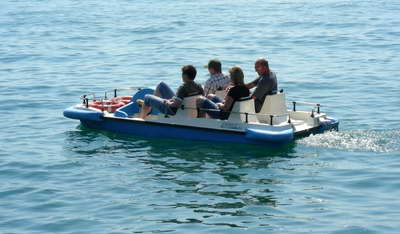 Click here to go from Lake Garda boat rental to the home page