Hello!
It's been very windy lately in this part of England that I live in, and it makes me think of the town of Torbole on Lake Garda. Torbole is the windiest place at Lake Garda, and it's the constant winds that make windsurfing extremely popular there.
Everywhere you look windsurfing is in evidence at Torbole; you'll notice that many accommodations and sporting facilities are geared specifically towards the surfer. The town is well known internationally for hosting windsurfing championships and this is very much the focus of the town. In fact, the main reason why I wanted to write about Torbole this month is because the town is holding its annual Surf Festival, which is a major event there.
But what about the town itself? Torbole is a medium size town located at the top north-east corner of Lake Garda. The main road from Rovereto and the north-east meets the lakeside road in the centre of town, so this can get pretty busy sometimes and parking can be a nightmare - just to warn you! There are ferry services which run from here so this is a good way to get about in the peak season. You will also see a lot of cyclists in this area, as this is a favourite starting place for many of them.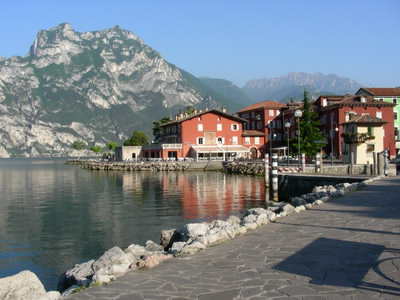 The view from Torbole down the lake is beautiful with the clear blue water of the lake firmly held between the huge mountains either side. The water in the north part of the lake is particularly pure as the lake source (the Sacra river) enters the lake there. There is also a quite extensive shingle beach there, but this is widely used for windsurfers getting into the lake, so if you want a quiet beach you may be best going elsewhere.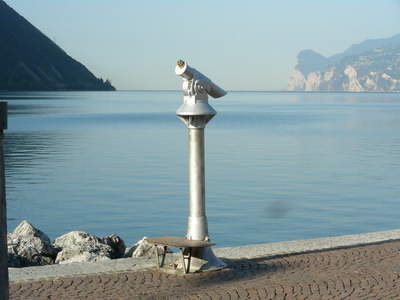 The whole town oozes with sporting activities and for the active person this is a great place to stay. The town itself is a bit of a mixture of old and new, the old part around the port area being the most attractive part of town.
There are more modern parts to the town which have come about due to the increase in sporting facilities over the years, but it still has a lot of character and is well worth a visit, even if you don't windsurf.
We ourselves don't windsurf, but we love to go there, if only to be caught up in the wonderful atmosphere of the sport and marvel at the way the lake can sometimes be almost completely obscured by the thousands of multicoloured sails!! Well, hopefully we've enlightened you a little about Torbole. You can also find out a little about the other towns by checking out our pages about them
here.




Add your Lake Garda Story to our Website
Don't forget to add your stories and comments to our website! Simply go to the forum page which has all the main categories listed (which you can add stories or comments to). We've even added a category for all other stories which don't fit into the main ones listed.
So go on, tell everyone about that mouth watering restaurant, amazing shop, adrenalin filled sporting activity, fantastic hotel, your favourite town, and so much more! We can't wait to hear all your stories! Thanks in advance for getting involved in our Lake Garda community. Take a look here at our new
Forums Pages.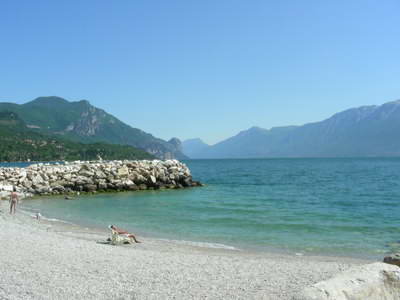 Main Events
Here are the main events going on in the Lake Garda area over this month and next month. There are also loads of smaller things happening in each town everyday, from art exhibitions to sporting events. Please contact us if you want to know what's going on in any particular town and we'll do our best to help you.
Fireworks around the lake - from June 5th to November 11th. Each summer thousends of tourists admire the stunning fireworks around Lake Garda.
Tocatý - Festival internazionale dei giochi - Verona - From 23-25 Sept, 2011. For 3 days the ancient town center of Verona will be a giant playground for adults and kids. Traditional games from Verona and a guest nation will be played in every angle of the city.
Festa dell uva e del vino - Bardolino - 29 Sept to 3rd Oct, 2011. The most popular wine festival on Lake Garda. A chance to taste the Bardolino wines with your friends.
Ciottolando Con Gusto - Malcesine - 1-2 Oct, 2011. Every year at the end of the warm season old town of Malcesine transforms to the Land of Cockaigne.
Bike X-treme - Limone - 16th Oct, 2011. One of the hardest MTB contests in the perfect Biker scenery of Lake Garda.
Lake Garda Marathon - Limone, Riva, Arco, Torbole, Malcesine - 9th Oct, 2011. The traditional Lake Garda Marathon invites for a perfect race in a stunning natural scenery.
And there are, of course, all the usual markets that are definitely worth going to. To find out more about when and where they are,
click here.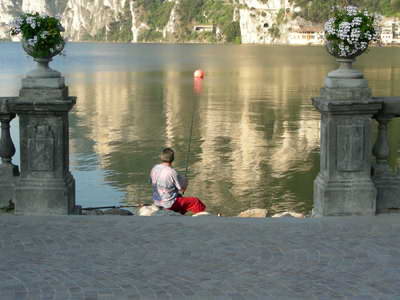 This Issue's Featured Hotel
In every newsletter Issue we research and then feature a hotel or apartment at Lake Garda to give you an idea of the accommodation there. We always make sure the hotel has a guest rating of 8 or more (out of 10), so you know it's a decent place to stay!
Hotel Lago di Garda is located on the lake front, facing the wonderful gulf of Torbole in a wonderful scenic setting. It is 100 meters from the public beach, right next to the center. The Hotel Lago di Garda welcomes its guests with 43 comfortable rooms, and has especially good service in order to assure the best relaxed atmosphere.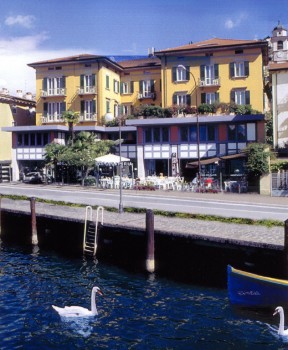 'Hotel Lago di Garda' in Torbole


To Conclude...
As you can see from our photos of Torbole, it really is in such a lovely setting and well worth a visit. We hope your next trip to Lake Garda is wonderful!
See you next time!
Marcus and Sylvia
---