Hello!
Christmas is fast-approaching, and you're probably busy getting ready for the exciting festive season. It seems like there are always loads of things to do, like get your presents bought and wrapped and the Christmas tree up and decorated. And, of course, probably the most important thing you need to do is plan your menu. If you're not going to Lake Garda this month, then what about bringing some wonderful Lake Garda dishes to your table?
This month, I thought I'd do something a little bit different. After a lot of research, I've come up with an Italian Christmas Eve menu for you to try. You're probably asking, "Why Christmas Eve?" Well, in some areas of Italy, Christmas Eve dinner is the most important meal of the holiday season: the entire evening is spent at the table and, after the panettone (which is a traditional cake), presents are opened and then everyone bundles up to head out for Christmas mass.

This 4-course dinner is in keeping with the Italian tradition of not eating meat, mangiare al magro, the night before Christmas. I have also sourced these recipes as much as possible from the Lake Garda area. I hope you'll try them; you'll be immediately transported to Lake Garda with these wonderful dishes!


Appetizer: Venetian-style Scallops
This dish is from the Veneto Region. Most of the towns along the eastern shores of Garda are in Veneto. This is a hot fish hors d'oeuvre. In Venice, scallops are served both as appetizers and as a tasty second course.
Difficulty level: Easy; 20 minutes prep + 10 minutes cooking; Serves 4


8 scallops
⅛ oz garlic
½ oz parsley
1 oz extra virgin olive oil
1 sprig dill
⅛ oz lemon juice
salt and pepper to taste


Carefully brush the shells when still shut. Wash repeatedly, then open to prepare for the cooking, remove the yellow part and the slimy part. Heat the oil in a pan, add finely chopped garlic and the mussels. On high heat, add parsley and dill. Season with salt and pepper, and cook for 5 minutes. Re-arrange each shell by placing two mussels inside and pouring a little of the cooking liquid over each one.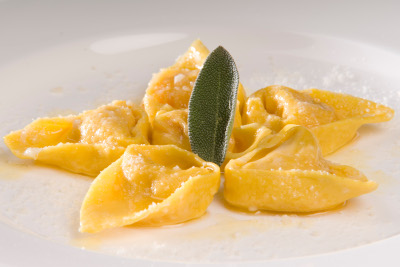 First Course: Pumpkin Ravioli
A traditional vegetarian dish from the Emilia-Romagna Region, just south of Lake Garda.
Difficulty level: Medium; 1 hour prep + 30 minutes cooking; Serves 4
For the filling:
450g/1lb piece of pumpkin
1 tbsp olive oil
large pinch of fennel seeds, lightly crushed
1 medium egg, yolk only
25g/1oz parmesan cheese, grated, plus extra to serve
pinch of freshly grated nutmeg
2 amaretti biscuits, crushed
15g/1oz fresh white breadcrumbs
salt & freshly ground black pepper


For the fresh egg pasta:
225g/8oz plain flour
¼ tsp salt
½ tsp olive oil
2 medium eggs
4 medium eggs, yolks only


1. Preheat the oven to 200C/400F/Gas 6.
2. Cut the piece of pumpkin into wedges and scoop out the seeds. Put into a roasting tin, sprinkle over the oil, fennel seeds and some seasoning and turn over once or twice.
3. Roast for 30 minutes until tender. Leave until cool enough to handle and then scoop the flesh away from the skin.
4. Put the flesh in a bowl and mash to a smooth purée with a fork. Stir in the egg yolk, parmesan, nutmeg, amaretti biscuits, breadcrumbs and seasoning to taste.
5. For the pasta dough, put all the pasta ingredients into a food processor and blend until they come together into a ball.
6. Tip the dough on to a work surface and knead for 10 minutes, until smooth and elastic. Wrap in cling film and leave to rest for 10 - 15 minutes.
7. Bring a large pan of well-salted water (one teaspoon salt per 600ml/1 pint water) to the boil.
8. To make the ravioli, cut the pasta dough into quarters and, working with one piece at a time, roll out using a pasta machine, lightly dusting the dough with flour between rolls and finishing on setting number five.
9. Place the piece of dough on a floured surface and make small indentations over the bottom half of it at 6cm/2½in intervals, 2½cm/1in from the edges.
10. Place a teaspoon of the pumpkin filling on each mark and then brush lines of water between them.
11. Fold over the top half of the dough and, working from the centre of the line outwards, press firmly around each pile of filling with your fingers to push out any trapped air and seal in the filling.
12. Trim off the edges and then cut between the rows with a sharp knife or a fluted pasta wheel. You should make about eight or ten ravioli (5 x 5cm/2 x 2in each). Repeat with the remaining three pieces of dough.
13. If you are not going to eat the ravioli immediately, drop them into the boiling water as you make each batch and cook for just one minute, then lift out with a slotted spoon and drop into a bowl of cold water.
14. Drain and lay out on lightly oiled trays, cover with cling film and chill until needed. Then drop back into boiling salted water just before serving and cook for three minutes.
15. Alternatively cook them all at once for a total of four minutes. Drain well and tip into a large, warmed serving bowl. Some like to serve this with meat sauce (bolognese style ragù).



Second Course: Codfish Vicenza-style
A delicious fish recipe from Veneto - the same Region as our appetizer!
Difficulty level: medium. 30 minutes preparation + 3 hours cooking. Serves 4
1 lb dried cods
½ lb milk
3 ½ oz onion
3 oz extra virgin olive oil
1 oz salted anchovies
⅛ oz garlic
⅜ oz parsley
all-purpose flour to taste
grated Parmigiano Reggiano cheese to taste

Soak the codfish for 24 hours. Remove the spinal bone and the other fish bones. In a casserole with oil, brown the onion, add a little salt. Add crushed anchovies and chopped parsley. Cut the codfish into chunks, flour the chunks then sprinkle grated cheese on them. Add a little milk to the casserole, keep on low heat, add codfish and cook. Add more milk if necessary, season with a little salt and pepper and cook until ready.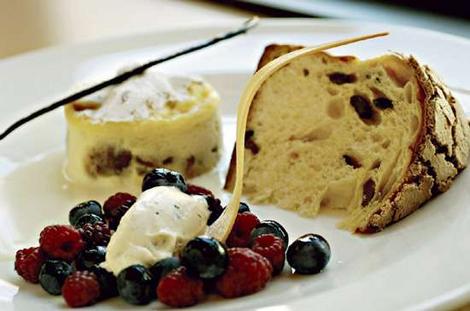 Dessert: Panettone
This is from the Lombardia Region, which is where the western shores of Lake Garda lie. Panettone is a type of sweet bread studded with currants and raisins. It is Italy's most famous Christmas sweet.
Difficulty level: medium. Ready In: 2 Hrs 40 Min. Makes 1 loaf that can serve about 10
0.25 oz package active dry yeast
1 cup warm water (110 degrees F/45 degrees C)
1/4 cup white sugar
2 eggs
1/2 cup nonfat plain yogurt
1 teaspoon vanilla extract
1 tablespoon grated lemon zest
1/4 teaspoon salt
4 cups unbleached all-purpose flour
1/4 cup dried currants
1/4 cup raisins
1 tablespoon confectioners' sugar
1 tablespoon butter, melted (optional)

In a medium bowl, combine yeast, water and sugar. Cover and let stand 10 minutes, or until foamy. Add eggs, yogurt, vanilla, lemon zest, and salt. Mix well.
Stir in flour 1/2 cup at a time until dough forms into a manageable ball. Turn out onto a lightly floured surface and knead for 5 to 10 minutes, adding flour as necessary, until dough is soft and pliable, but not sticky. (May need up to 5 cups flour.) Place dough in a large, lightly pan-sprayed bowl, cover, and let rise in a warm place until doubled, about 1 hour.
Preheat oven to 350 degrees F (175 degrees C) and spray a round 8-inch cake pan with non-stick spray. In a small bowl, toss dried fruit with confectioners' sugar. Punch down dough in bowl, transfer to floured surface, and knead in the fruit.
Form dough into a ball, place in prepared cake pan, cover loosely with dish towel, and let rise 30 minutes (Loaf will rise above the pan sides). Brush with melted butter, if desired.
Bake for 45 minutes, or until loaf is golden brown and a toothpick inserted in the center comes out clean.
Try serving with cream and fresh fruit.



Main Events

In most towns around the Lake, you'll find many things going on throughout the year, including art exhibitions, festivals, wine and food tastings, theatre events and sports events.

If you'd like to know about any events in particular for this month, then please contact us, as we only cover the main events each month.

Christmas in Riva del Garda from 5.12. – 03.01.2010
Riva offers families a special Christmas with the Casa di Babbo Natale – the house of Santa Claus. Castle Rocca changes into a fairyland, where fairies open their Santa Claus house and welcome both children and adults.

The Christmas market in Arco from 20.11. – 23.12.2009
Against the scenery of historic palaces, regional delicacies, traditional arts and crafts and other characteristic products are on offer at this Hapsburg market. Entertainment for adults and children, fireworks and a Christmas market for children in the enchanted lanes bring out the spirit of Christmas.

Christmas in Tenno from 05.12. – 06.01.2010
In the village, exhibitions of Christmas mangers and traditional craftsmanship dominate the displays. There are also gospel concerts, theatre performances and an entertainment programme for children which contribute to provide a festive atmosphere.

Natale tra gli Olivi 2009 – Large Christmas market in Garda from 20. 11. to 06. 01. 2010
Garda is celebrating Christmas between olive trees. A pretty and varied Christmas market enchants holiday makers and natives alike. Traditional craftsmanship, culinary and musical contributions from different Italian regions and a large Christmas manger provide a festive atmosphere.



There are, of course, all the usual markets that are definitely worth going to. To find out more about when and where they are, click here.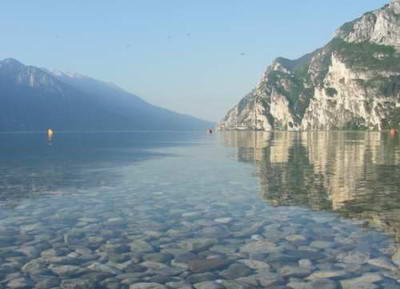 Your Stories

We really want to hear about your Lake Garda experiences and stories, even if it's just a sentence or two. Get your story in a future newsletter and share your experiences with others! Whether you want to share your favourite hotel, town, family outing, or sport you've experienced at Lake Garda, we'd love to hear all about it.


To Conclude...

We really hope that you'll try out this Christmas Eve menu. Even if you just try one recipe, it's worth doing. The delightful tastes will transport you to Lake Garda and make you wish you were there!


See you next month!



Marcus and Sylvia
---