"So, Which Lake Garda Leisure and Family activities would You Like To Do?"
Wondering how to amuse the kids? Where are the best places to take them? What Lake Garda leisure activites will be best for you? Well, Italy in general is known for being very children orientated. There are tons of things they will love and you will love too.






We'll tell you about which Lake Garda leisure activities to do with family in and around the lake, including the coolest themeparks (don't miss Gardaland), the best beaches for swimming, the variety of things (paddle boats, etc) available to rent. The list goes on

and on.................................

and on................................!



What if you're looking for relaxing things to do to amuse yourself? There are tons of leisurely activites we'll go over in detail. Maybe you're into horseback riding, spas, lakeside walks, hiking in the mountains...or perhaps want to know about fishing?
Once you're through with us you'll know all about each of these exciting things and more.




---
So...Ready for Lake Garda Leisure & Family to be revealed?
---
Themeparks
The most popular and largest themepark in Lake Garda, indeed in all of Italy, is Gardaland. This Disney-style themepark is great for children of all ages, even 27 year old kids like me! If your kids (or you) are more into waterparks, then you would enjoy Aqua Paradise Park. This island water paradise has tons of aqua experiences full of adventure, including rides as well. This water park is part of CanevaWorld Resort. The other part to this resort is Movie Studios Park where you'll find live action shows and demonstrations, and...yes, even more rides! Go on why not have some fun at Lake Garda's theme parks.


Boat Rental
Feel like cruising around the lake on a motorboat for the day? Or maybe you want to take the kids out on a paddle boat, or perhaps you're into the fitness thing and want to rent a kayak. There are loads of places you can do boat rentals here. If you are interesting in sailing then check this section out on the sports page.







Fishing
The fishing in Lake Garda is fantastic and one of the most popular things to do on the water. You'll find over 30 types of fish in Lake Garda, and you can fish all year round. However, there is one very important thing you need to know before you go fishing at Lake Garda , find out more here.


Mountain Biking & Cycling
Want to go for a leisurely cycle around the Lake? Or maybe you fancy a full on blast high up in the mountains! Which ever you prefer you will be spoilt for choice when doing mountain biking or cycling around Lake Garda. This is definitely one of the most popular Lake Garda leisure activities in the north of Lake Garda.


Swimming
This can be done anywhere on the warm, clear waters of the Lake Garda. Discover some handy tips and how to pick the best spots for swimming in the lake.


Horseback Riding / Trekking
Adventurous horseback riding excursions are available all around the lake. Enjoy some fresh air and amazing views while you go Lake Garda trekking!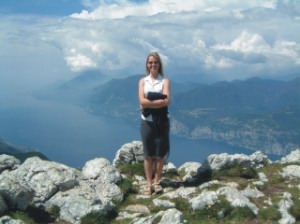 Hiking and Walks
There are all kinds of lovely walks and hikes around Lake Garda. Have a nice lakeside stroll after your evening meal or spend the day going on an all-out hike in the mountains, admiring the beautiful views and mountain flowers as you go.
Monte Baldo is one of the most popular places for a mountain walk and a great Lake Garda leisure activity.


Spas & Beauty Centres
Want to have some time out from shopping and tiring excursions to relax and get pampered? There are a number of Beauty Centres, Wellness Centres and Spas to ease your body and mind.


Parks, gardens & zoos
Why not have a stroll through the beautiful parks and gardens at Lake Garda? One park is even considered to be in the top 5 in the world! There is a dinosaur park and safari park for the kids as well. Find out more about all the most popular Lake Garda parks.



What is Your best Lake Garda family day out?
Done a really fun or enjoyable family outing at Lake Garda? Why not share your story about it and you are highly likely to get your own spot on our website! Your story could well feature on a dedicated web page and may even get in our newsletter too! How good would it feel to show your friends and family your own Lake Garda story on a well respected Lake Garda site! We love pictures as well, so feel free to send us your best shots and there will be no mistaking you then!



Click here to go from Lake Garda leisure and family to the home page