Hello!
Well, the excitement of Christmas is now long behind us, and we're now into a rather bleak time of year. I'm sure that you're probably keen for spring to arrive already, like I am. And, possibly, you're keen for your next holiday to Lake Garda too!
Going to the opera while you're at Lake Garda is something that you must really try to plan to do. Our friend Judy has kindly sent us her experiences of going to the opera, which are very interesting and will really make you desperate to go! Thank you Judy, for your following piece...




"A Night at the Opera" is a very funny movie starring the Marx Brothers in Italy. But it is also a very rewarding experience that you can have during your stay at Lake Garda. Milan's La Scala, not far away, is the most recognizable venue for opera in Italy.

However, there is an even closer and more affordable option for you. While you are enjoying your summer stay at Lake Garda, go to Verona for your night at the opera. It's a Must Do! The city of Verona is a short 30 minute drive or train ride from Desenzano del Garda. It is where you find the centuries-old Arena di Verona, an open-air ampitheatre, in Piazza Bra, Verona's main square. Each opera season there are several beautiful musical productions. Arena di Verona Opera Season runs from June through August and you can actually attend 1-4 different operas in the same week (depending on schedules).






Many local tour operators (such as Agenzia Viaggi Molinari - www.viaggimolinari.it) have an opera night excursion to make it easy and convenient for you. Alternatively, you can book a hotel in Verona for the night so you don't have to worry about travelling back late.

Once you get to Verona, take a brief walking tour and explore the many shops and cafes in this boutique city. Verona is a great walking city and is a window-shoppers dream come true. You can have dinner prior to the opera if you are lucky enough to find a table at one of the many cafes in the Piazza Bra with the magnificent Arena di Verona in view. (Restaurants are packed with those who made prior reservations). Better yet, pick up some panini, pastries, fruit and wine and enjoy a picnic inside the Arena while you people-watch fron your seat. If you forget the wine, there are vendors selling little bottles of local wine once you're inside the Arena.

The Italians take their opera very seriously so the performances are quality assured. And you don't have to be "into" opera. The whole scene is a real "happening" like a huge rock concert. The acoustics are great, and really do the Romans proud; You can hear everything! It's incredible. Also, you don't have to pay a fortune to get a seat to have a good night. The view is even great from the seats along the top of the arena.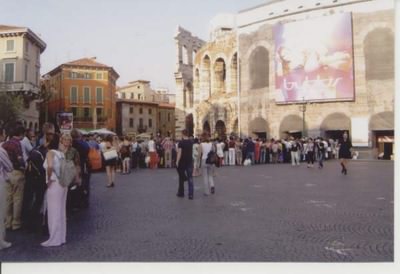 Gradinata "seats" are not numbered and require subtantial standing in line...people start queuing two hours before. However gradinatas are OK if you are on a budget since they're much cheaper than the booked seats (cheapest ticket 21-25 euros, most expensive ones about 198 eur). It's best to order the tickets in advance or with a tour company or buy them somewhere so you get the actual tickets, since the Internet booking means more queuing at the ticket office behind the arena. Oh, and if it rains before the opera begins, you get a refund. But after the first note is heard - tough luck!

Here are a few tips about attending the Opera di Verona:
Get your tickets in advance through a tour company, your hotel or a web site such as www.arena.it
If you are on a budget, it's OK to buy the cheap seats. It's the total experience that counts. Any seat is a good seat. The thrill is just being there.
Dress code: anything goes. Sunday dress or just casual, whatever you fancy!
Go inside the Arena early and people-watch. It's a fascinating part of the experience.
Take a cushion or some kind of padding, or rent one outside, because you will be sitting on centuries-old stone.
Pick up a candle from a box, unmarked, on the stairs. The tradition is to light the candles as the opera begins (Keep your fingers away from the hot wax though). It's beautiful!
During the performance, close your eyes, take a deep breath, listen to the music and imagine all the many people over the years who have sat in your very seat.
Buy the book (about 5 Euros) that translates the opera into English so you can follow along and a small reading light so you can see it. It gets pitch black.
Bring your own water.
Hopefully, the weather will be warm but wear something long if you are prone to being bitten by mosquitoes, just in case.
The opera begins when it gets dark, around 9 PM and goes until about 1:30. If you are not part of a tour and arrived in Verona by train or bus, be sure there is a train or bus heading back to Lake Garda that late, or better yet just book a hotel for the night.

Opera at the Arena is a great experience! The spectacle and spectator atmosphere is unique, and I would highly recommend it for anyone!

-Judy Wolfe, Southern CA, USA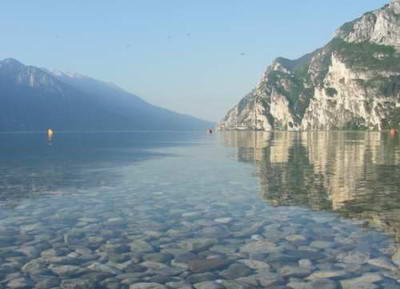 Thank you once again Judy, for your fantastic article! So well-written!


Main Events

In most towns around the Lake, you'll find many things going on throughout the year, including art exhibitions, festivals, wine and food tastings, theatre events and sports events.

If you'd like to know about any events in particular for this month, then please contact us, as we only cover the main events each month.

There is just one main event this month: "Arcoland: the City of Toys" event. It runs on the 14, 15, 19, 20, 21 and 22 of February, starting at 2pm. Here's a bit about it:

The Carnival of Arco is not to be missed, and is for the whole family. Amoung the streets of the old town "Arcoland, the city of Toys" takes life. It's an amusement for children, with coloured little houses, flag-wavers, street artists, Musicians and jugglers. A rich program of entertainment is also planned for adults and includes concerts, tastings and a masked party.

There are, of course, all the usual markets that are definitely worth going to. To find out more about when and where they are, click here.


This Month's Featured Hotel



This is a new thing we're starting: every month we feature a Hotel in the Lake Garda area so you can get an idea of the accommodation there. We always feature a hotel with a "guest rating" of 8 or more (out of 10), so they are always all-round great quality places.

This month's hotel is the Degli Oleandri. It enjoys a superb position in the historic centre of Sirmione, only 10 metres from the azure waters of Lake Garda, and within close proximity of the Catullo thermal bath resort, ensuring you a pleasant and relaxing holiday amidst art marvels, wellness facilities and beautiful landscapes. You can find more info and look at more photos of it by clicking on the link below the photo.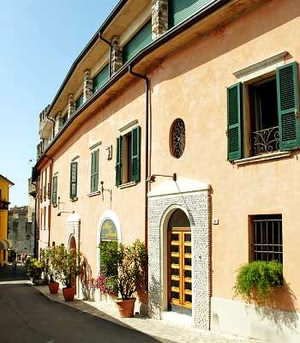 The Degli Oleandri in Sirmione

Your Stories

We really want to hear about your Lake Garda experiences and stories, even if it's just a sentence or two. Get your story in a future newsletter and share your experiences with others! Whether you want to share your favourite hotel, town, family outing, or sport you've experienced at Lake Garda, we'd love to hear all about it.


To Conclude...

We're all geared up for the opera, and we hope that you've learned a few things about it too. Maybe we'll see you there this summer!

See you next month!


Marcus and Sylvia
---