Happy New Year!

We hope that you and your families had a wonderful Christmas and New Year!

Firstly we would like to apologise for the ommission of the December newsletter. This was due to the early arrival of our new son right at the end of November!! Both he and mother are doing well, even though the latter is lacking a bit of sleep!! Our two-year-old girl is besotted with her new baby brother, what a wonderful early Christmas present!






Anyway as Christmas and New Year come and go our thoughts turn to what is going to happen in 2008!

After all the recent excitement of the festive season, the start of the year then tends to feel a bit flat. What better way to give yourself a boost than to think about where to go on holiday this year.

The anticipation of a great holiday is a wonderful way to give you something to really look forward to! We love planning our trips away and since there is so much you can do at Lake Garda it pays to plan ahead if you are going there! Check out where you can stay here.


This Month's Topic: Why Lake Garda is one of the best places in the world for car and motorbike enthusiasts!

For all you car and motorbike lovers out there, Lake Garda will give you an extra special holiday. The lake with its stunning views, surrounding mountain roads and beautiful lake side drives means this is a very popular place for exotic car and bike clubs.

In fact I have never seen so many Ferraris before as on our last trip to Lake Garda when we saw around 60 in a single convoy at the top of the lake!!! What a sight and the noise was pretty awesome too, it made my day that's for sure!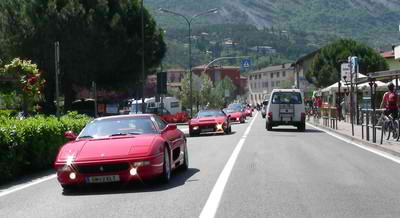 We love eating by the lakeside near the main roads where you can enjoy the wonderful Italian cuisine and watch the road for exotica. You will see a huge range of vehicles from old classic cars to new Lamborghinis and Ferraris. Or from modified Harleys to the latest Superbikes (Ducattis are naturally very popular) or old classics. I have never been anywhere better or more enjoyable to watch the traffic go by.

Lake Garda is a playground for the rich and famous and you will see many Italians cruising the streets as well as Germans and others. Some of the marinas on the lake are a great place to see many awesome cars and bikes.

You also of course can visit some of the best car and bike factories in the world from Lake Garda. All of the most exotic names are within reach of the Lake and make a great day out for the enthusiast!

For the car lovers Ferrari, Lamborghini, Bugatti and Pagini are all found very close together. While bikers can see Ducati, Aprilia and Moto Guzzi. There is no where else in the world you can see many great names this close together!! Find out more...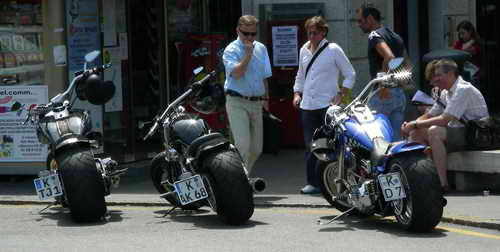 Events in January
There are still some Christmas Events going on in January around the Lake for the first part of the month, so if you're still in the festive mood, then try to get to these if you can!
Present-6 January: The famous "Crib of the Lake" in Peschiera is worth a look! From the bridge on Canale di Mezzo you can enjoy the magical scene of a crib lying on the bottom of the lake, surrounded and covered by peaceful waters. This was made by the Sub Club Peschiera del Garda in 1980 in celebration of Lake Garda.
5-6 January: Riva del Garda's fairy-tale Christmas is still being celebrated on these days. The ancient Rocca is beautifully decorated, and there are various stalls to visit, musicians, delicacies to eat, and you can still visit Father Christmas too!


Being January, the second half of the month is fairly quiet on the major events front. There are, of course, the usual Markets and small Art Exhibitions going on. Don't forget that January is also a great time of the year to shop - so go on, bag yourself a bargain!



Your Stories
We want to hear about your Lake Garda experiences and stories. Get your story in a future newsletter and share your experiences with others! Whether you want to share your favourite hotel, town, family outing, or sport you've experienced at Lake Garda, we'd love to hear all about it.






Free Gifts for Subscribers!!

We are now rewarding all of our Newsletter subscribers by giving you exclusive access to our Free Gifts! As a current subscriber, you can take advantage of these useful Lake Garda gifts. To gain access to this page, you'll need to type in the following password: EnjoyLakeGarda (this is case-sensitive, so type exactly as shown). Get your free gifts here!!


Thank you for reading our Newsletter, see you next month!

Marcus & Sylvia




---