Hello!
We hope you had a great Christmas and New Year! No doubt you're still doing some shopping, since there are many great sales still on! This month I'm going to go over shopping at Lake Garda - we'll look briefly at the 3 most popular types of shopping: Leather goods, Clothes, and Art & Crafts.


Leather Goods

Handbags, shoes, belts, wallets, jackets...these items are found when shopping around Lake Garda. You will find leather in every town around the Lake, from the markets to the high-end designer shops. If you really shop around, you can pick up some real bargains too! The prices for leather goods are very competitive between the stores, and you can also barter with the shop-keepers. You only need to know one italian word for bartering, and that's 'Sconto?', meaning 'discount?'...this often works and is worth trying! We have a whole page about leather on our website, so why not take a look!


Clothes
You probably already know that Italy is the centre of the fashion world, particularly Milan, which is not far from Lake Garda. The clothes you see in the shops around Lake Garda reflect that...they are all the latest and greatest styles! If you're looking for the top Italian desginer names like Versace, Gucci, Armani and Prada, then you'll definitely enjoy it here. Check out our page about clothes: you'll find a size conversion chart (which is very handy), and you can find out which towns are the best to go for the ultimate Lake Garda clothes shopping experience.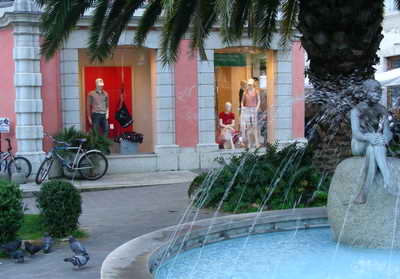 Art & Crafts

You will see various paintings, art and crafts for sale in every town around Lake Garda. Most of the paintings are bright and full of color - reflecting the typical Meditteranean scenery. The artists usually use oil and somtimes acrylic for their medium. Watercolours are also seen quite a bit. One thing you'll notice is all of the street artists, it's fascinating to watch them at work and they sell their work for a very good price. Beautiful detailed pottery, marble and copper works are common as well. Find out lots more here!




Main Events

In most towns around the Lake, you'll find many things going on throughout the year, including art exhibitions, festivals, wine and food tastings, theatre events and sports events.

If you'd like to know about any events in particular for this month, then please contact us, as we only cover the main events each month.

Since last month was so busy with various special Christmas markets, displays, concerts and plays, there aren't any major events for this month. However there still small things going on, so, as mentioned above, please contact us if you'd like to know about events for a particular day for this month.

There are, of course, all the usual markets that are definitely worth going to. To find out more about when and where they are, click here.




Your Stories
We really enjoyed last month's story from Enzo about Italian Christmas Traditions, but I'm afraid we don't have any stories this month.

As for the rest of our subscribers, we really want to hear about your Lake Garda experiences and stories too, even if it's just a sentence or two. Get your story in a future newsletter and share your experiences with others! Whether you want to share your favourite hotel, town, family outing, or sport you've experienced at Lake Garda, we'd love to hear all about it.


To Conclude...

We hope that you have a wonderful 2009! And make this year a great start with some fabulous retail therapy at Lake Garda!

See you next month!


Marcus and Sylvia
---