Hello!
Last month we told you all about the town of Garda, and now we're going to tell you a little bit about another lovely town on Lake Garda: Malcesine. This town is a very popular place to visit, especially during the summer. The name of the town is a good way to practice your Italian pronounciation, as it is pronounced Mal-chez-in-nay.


Malcesine is located on the eastern shore on Lake Garda, nestled in between the lake & Monte Baldo, which is the highest mountain on the lake. The town is a lovely place to stroll, with picturesque medieval lanes winding up the slope from the lake. There are pretty little squares, cafes and restaurants, gelaterie and shops selling handbags, shoes, limoncello and clothes. The main harbour is typical of Lake Garda: small, attractive, filled with boats and lined with cafes. A short distance away is the old port, the Porto Vecchio, a quieter spot with good lake views, curious sculptures and more restaurants.

One thing we love to do is go up Monte Baldo in the cable car. You get fabulous views of Malcesine and the lake, and it's a great way to cool off on a hot day being so high up! In the summertime you'll see a lot of paragliders sailing off the edge of the mountain and gliding over the lake; it's quite a sight! If you want to find out all about Monte Baldo and the cable car, check out my newsletter archives; my September 2007 issue tells you all about it in detail.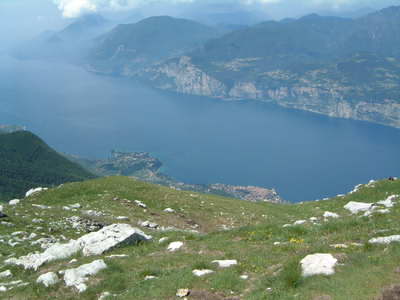 For those of you who'd rather keep their feet firmly on the ground, there's lots of other interesting tourist attractions to visit in Malcesine. In particular, there are two significant buildings that you must see. The most important, and indeed the most striking feature as you approach the town is its historic castle, the Castello Scaligero. This is the town's main tourist attraction and is used as a wedding venue too. There are great views from the ramparts and the chance to climb up the tower and gaze down at Malcesine's huddled rooftops. The castle is open every day with conveniently long opening hours (apart from winter months when it closes at 4pm). There's an entrance charge, with reductions for over-65s and children.




The second most important building in Malcesine is the fifteenth-century Palazzo dei Capitani, close to the harbour. This was the headquarters of the Venetian rulers of the area, the Capitani del Lago. It's grander than the town's other modest historical buildings, and there is also a very pretty lakeside garden you can wander through.

To the south of town, a pleasant lakeside promenade meanders past hotels, cafes and potential bathing spots to a little headland which boasts a couple of 'beach' establishments without real beach but with neat waterside lawns where you can hire a sunbed and parasol and relax with splendid lake views. There are plenty more bathing opportunities on the other side of town, where tiny pebbly beaches soon fill up with swimmers and sunbathers in the summer, so make sure you get there early!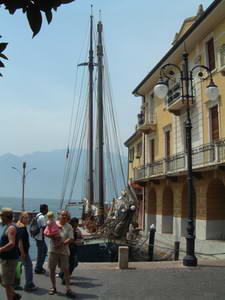 As you may know, the main road around Lake Garda can make strolling along an unpleasant ordeal; however in Malcesine this isn't a problem as there is a path for cyclists and pedestrians running between the road and lake for some distance in either direction. If the sun isn't too hot, explorers can continue to the south past the picturesque 'sunbathing headland' as far as Cassone, a pretty little village which claims to have the world's shortest river. It also has a pretty, tiny harbour and a waterfront cafe-restaurant. The walk between Malcesine and Cassone takes around an hour. Look out for the grand villa in the Val di Sogno area; it's on the green headland with gardens you can glimpse. The villa even has its own little private cablecar! The walk also passes two of Lake Garda's five islands: Isola dell'Olivo and Isola del Sogno.

Hopefully we've enlightened you a little about Malcesine! You can pick up more info about it at the tourist information office near the harbour. And, of course you can also find out a little about the other towns by checking out our pages about them here.






Main Events

In most towns around the Lake, you'll find many things going on throughout the year, including art exhibitions, festivals, wine and food tastings, theatre events and sports events.

If you'd like to know about any events in particular for this month, then please contact us, as we only cover the main events each month.

Garda Jazz Festival 2009: 17/06 - 05/07
First-rate jazz in the north of Lake Garda: between the shore of the lake and the mountains international jazz-musicians play sophisticated background music for pleasant and mild evenings against the setting of fantastic nature in Garda Trentino.

Jeantex Tour Transalp: on July 4th and 25th, 2009
This summer the outdoor-Mecca Garda Trentino awaits two exciting cycling events. Arco and Riva del Garda, which are on the northern shore of Lake Garda, are the final destinations of the two important crossings of the Alps, Jeantex Tour Transalp and Jeantex Bike Transalp.

There are, of course, all the usual markets that are definitely worth going to. To find out more about when and where they are, click here.




This Month's Featured Hotel
Every month we feature a Hotel in the Lake Garda area so you can get an idea of the accommodation there. We always feature a hotel with a "guest rating" of 8 or more (out of 10), so they are always all-round great quality places.
Hotel Catullo: This peaceful hotel, featuring a vast garden among olive trees, is situated on the eastern shore of this beautiful lake in the northern area of the country, and features prime amenities which will make your stay both enjoyable and relaxing.
This Lake Garda hotel boasts a nice outdoor swimming pool, a solarium area in the garden, a fully equipped fitness room, bar and table tennis. The location is just perfect, since it lies at the very centre of Malcesine. Almost next door you will find the cableway to Mount Baldo, which offers incredible views over the lake and the Alps.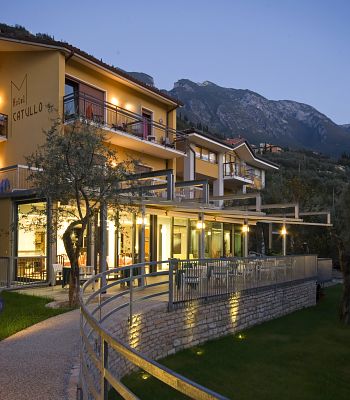 The Hotel Catullo in Malcesine

Your Stories

We really want to hear about your Lake Garda experiences and stories, even if it's just a sentence or two. Get your story in a future newsletter and share your experiences with others! Whether you want to share your favourite hotel, town, family outing, or sport you've experienced at Lake Garda, we'd love to hear all about it.


To Conclude...

We hope that we've convinced you to go to the brilliant town of Malcesine. You really will discover not only how charming the town is, but also the variety of wonderful things to do there!

See you next month!


Marcus and Sylvia
---