Hello!
Peschiera del Garda is at the Southern end of Lake Garda, where the Mincio River drains the lake. It is one of most characteristic towns of lake Garda: it stands on the low shore of the lake and it is completely surrounded by canals, making it one of the most unusual towns on the lake.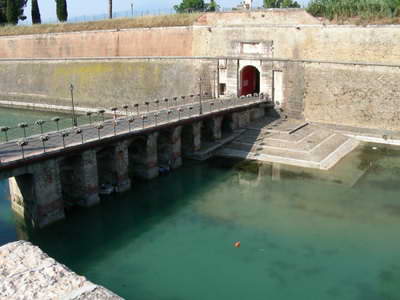 Peschiera is 25 kilometres far from Verona and it is easy to get there: toll A4 Milan-Venice for people travelling by car, the Peschiera train station (Milan-Venice way) for people arriving by train, the Verona Villafranca airport for people travelling by plane.

The historic centre of Peschiera is delimited by walls which modified the natural routes of the river; in medival times there was a castle and a walled harbour. When the Austrians controlled the area they demolished the castle, but reinforced the walls, making Peschiera one corner the their defensive quadrilateral. The other corners were at Legnago, Mantova and Verona. The best way to see these remaining defenses properly is by taking a boat ride.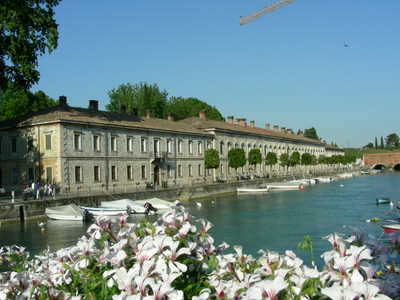 If you do hire a boat, we recommend hiring it from Garda Boats at San Felice, which isn't far from Peschiera. You'll see loads from a boat in this area, including the Peninsula of Sirmione and the privately owned Island of Garda (Isola del Garda).
This Island is just a short distance from San Felice del Benaco and it has been the expression of mysticism for centuries. Today it owes its fascination to the extraordinary Venetian neo-Gothic style villa, designed by the architect Luigi Rovelli at the beginning of the 20th century. The building (pictured below) is imposing and harmonious, rich in surprising architectonic details. It's owned by Counts Cavazza and is open for guided tours from April to October if you fancy a proper look!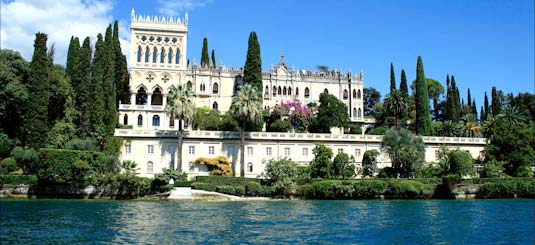 Peschiera area probably has most of the hotels and camping sites that have turned it into one of the main tourist destinations in Lake Garda. We recently stayed at one of the campsites there: Bella Italia which is well worth visiting and great for the kids! There are loads of other fabulous campsites in the area that are all just ideal for families. We were very impressed with the quality and cleanliness at Bella Italia too!

Another reason why it's nice being in the Peschiera area is from the port there it is easy to reach the other towns of Lake Garda by ferry. And if you're into cycling, there is a fantastic 40 km long cycling lane starting from Peschiera and connects the Lake to Mantova. It runs alongside the river most of the time, making it very enjoyable.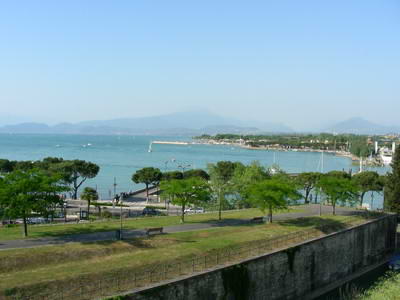 Main Events
Here are the main events going on in the Lake Garda area this month. There are also loads of smaller things happening in each town everyday, from art exhibitions to sporting events. Please contact us if you want to know what's going on in any particular town during this month and we'll do our best to help you.

Jeantex Bike Transalp & Jeantex Tour Transalp: on June 27th and July 3rd.
This summer the outdoor-Mecca Garda Trentino awaits two exciting cycling events. Arco and Riva del Garda, two charming small towns on the northern and thus the Trentino shore of Lake Garda, are the final destinations of the two important crossings of the Alps, Jeantex Tour Transalp and Jeantex Bike Transalp.  

There are, of course, all the usual markets that are definitely worth going to. To find out more about when and where they are, click here.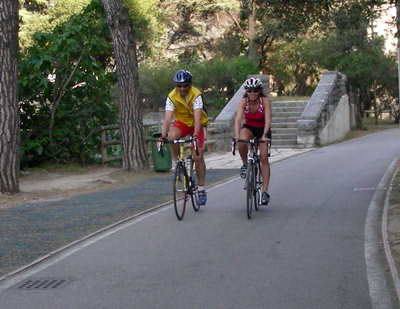 This Month's Featured Hotel
Every month we research and then feature a hotel or apartment at Lake Garda to give you an idea of the accommodation there. We always make sure the hotel has a guest rating of 8 or more (out of 10), so you know it's a decent place to stay!
Hotel Fornaci faces a charming little harbour near Peschiera del Garda and offers an outstanding location just a few steps from the Lake Garda and within 2 km/1.2 miles to Peschiera city centre.
Thanks to its good value for money accommodations and familiar atmosphere, this lake Garda hotel is the best choice to spend a relaxing holiday and explore the outstanding surroundings and towns.
Fornaci Hotel facilities include a nice garden with outdoor swimming pool, sun-umbrellas and sun-beds, a restaurant, a bar and a professional staff at your complete disposal for any kind of need or request in order to spend a memorable stay in Veneto.
Take a look at the photo and click on the link below to see loads more info & photos!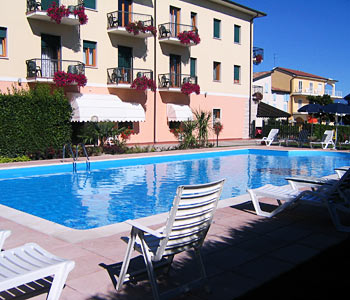 Your Stories

We really want to hear about your Lake Garda experiences and stories, even if it's just a sentence or two. Get your story in a future newsletter and share your experiences with others! Whether you want to share your favourite hotel, town, family outing, or sport you've experienced at Lake Garda, we'd love to hear all about it.


To Conclude...

The pretty town of Peschiera is not only full of character, but is an ideal town to stay at for exploring loads of interesting places nearby. You won't be disappointed when you visit it!

See you next month!


Marcus and Sylvia
---