Hello!
Our topic for you this month is geared toward all the watersport enthusiasts out there! Lake Garda is a paradise for water sports, be it waterskiing, jetskiing, kite-surfing, sailing, and of course, the extremely popular sport out there...windsurfing!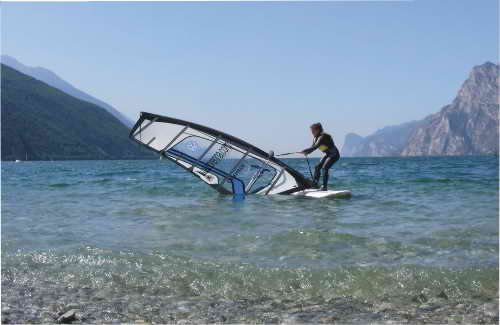 Let's briefly go over some of the watersports Lake Garda has to offer...


Windsurfing: Probably the most popular watersport to do on the lake. It's generally done on the North part of the lake where the reliable winds are the best. It really is a windsurfer's paradise, and the towns there, particularly Torbole, really cater for the sport, offering equipment rentals and lessons. On our website, you can learn about all about the different winds on the lake, what equipment you can hire there, and you can even check out a great video on windsurfing at Lake Garda. Take a look at our page and find out all about windsurfing.


Sailing: Another very popular sport at Lake Garda. Again, it's done mainly at the North of the lake; the towns of Riva and Torbole are known to be the most popular towns in connection with sailing, as there are lots of sailing competitions that go on at them throughout the summer. There's a sailing video, a list of what you can expect to see at a sailing center at Lake Garda, and more info about sailing.







Waterskiing and Jetskiing: These sports are enjoyed on the south end of the lake. The calm waters and abundance of space make ideal conditions for the sports! Find out more (like why they are resricted in certain areas) here.


Kite-surfing: This is quite a new sport, but rapidly gaining popularity. It's amazing watching these surfers fly up into the air, do flips, and cruise along at high speeds across the water! We have some great photos of kite-surfers and lots more info!


Scuba-diving and Snorkelling: Believe it or not, scuba-diving goes on at Lake Garda too, and you'll see snorkelling as well. We've got more info for you, including a list of Diving centers, on our page about diving.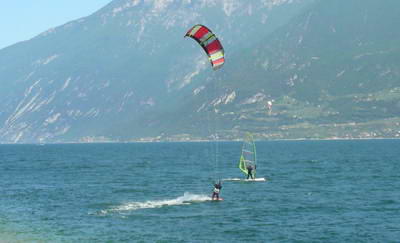 Add your Lake Garda Story to our Website
You can now add your stories and comments to our website! Simply go to the forum page which has all the main categories listed (which you can add stories or comments to). We've even added a category for all other stories which don't fit into the main ones listed.

So go on, tell everyone about that mouth watering restaurant, amazing shop, adrenalin filled sporting activity, fantastic hotel, your favourite town, and so much more! We can't wait to hear all your stories! Thanks in advance for getting involved in our Lake Garda community.
Take a look here at our new Forums Pages.




Main Events
Here are the main events going on in the Lake Garda area this month. There are also loads of smaller things happening in each town everyday, from art exhibitions to sporting events. Please contact us if you want to know what's going on in any particular town during this month and we'll do our best to help you.


"Modigliani Scultore" going on until 27th March, 2011 in Rovereto, which is about 6-7 miles east of one of the towns on the North part of Lake Garda: Torbole.

Modigliani is one of the greatest artists of the 20th century. Unique sculputures of this Toscanian artist will be shown in an exhibition of the museum of modern art MART in Rovereto. Make sure you go and take a look!

And there are, of course, all the usual markets that are definitely worth going to. To find out more about when and where they are, click here.



This Month's Featured Hotel
Every month we research and then feature a hotel or apartment at Lake Garda to give you an idea of the accommodation there. We always make sure the hotel has a guest rating of 8 or more (out of 10), so you know it's a decent place to stay!
Set among a century-old park of cypresses, overlooking the beautiful Lake Garda, the 3-star serviced apartments Dimora Poggio Ulivo enjoy a splendid position on the Gardesana road, a few steps from Pai/Torri del Benaco, a charming town far from the hustle and bustle of the bigger city of Verona.
The property offers direct access to the private beach of Lake Garda, to a nice swimming pool and a fabulous park.
Therefore Dimora Poggio Ulivo is the ideal accommodation for a relaxing holiday in Italy, rich in art, culture and tradition and for exploring the wide offer of sporting facilities and enchanting landscapes of the Lake Garda area.

To see more photos and info about this hotel, just click on the link under the photo below.



'Hotel Dimora Poggio Ulivo' in Torri del Benaco


To Conclude...

Hopefully our overviews and information on our website on some of the fabulous watersports have given you some insight into what they're like there. Whatever watersport you're into, we're certain you'll just love the exhilarating and beautiful experience of it on the crystal clear waters of Lake Garda!


See you next month!


Marcus and Sylvia
---