"There is plenty of space
for loads of Lake Garda
waterskiing and jet skiing"


Lake garda waterskiing and jet skiing is great in the south part of the lake. Here the lake is really wide and generally calmer, and there is loads of room to let off some steam on the water. Neither is allowed however in the very north part of the lake (the Trentino boundary and above), as this area is very popular for non-motorised sports such as windsurfing, sailing and kite surfing.





---
Lake Garda waterskiing and jet skiing
---
For those of a more active nature, waterskiing is enjoyed by many people in the south part of the lake. Away from the mountainous north the water is generally very calm and ideal for those who may be inexperienced. I know from experience that getting up for the first time on waterskis can be difficult, but that first time is a great feeling. My dad is a good waterskier and unfortunately shows us all up a bit!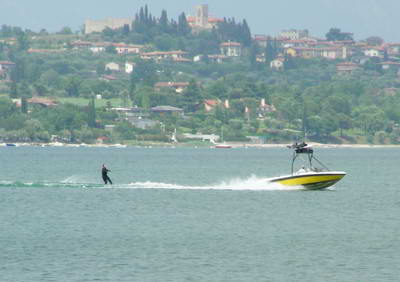 If you don't have the energy or don't fancy waterskiing then how about jet skiing? Much smaller and more manouverable than a boat, flying around on one of these is a blast! Experienced jet skiers can do some pretty cool tricks too. There are basically 2 different types, the original stand up style jetski which is meant for one person, or the wave runner style which you sit down on and can fit two people on. The wave runner is more relaxing but the original jet skis can be much more fun and way better for tricks.






Click here to go from Lake Garda waterskiing to the home page