"The windsurfing at Lake Garda is awesome! It is the perfect place for surfers, from beginners to pros"


Even if you're not a windsurfer, it doesn't take long to discover that windsurfing at Lake Garda is really popular. There is a very good reason for this: It is the reliable winds that are produced at the top part of Lake Garda. The beautiful clear water and wonderful mountain scenery just add to the whole surfing experience. Torbole also caters very much for surfers with tons of facilities and beaches that are geared towards windsurfers.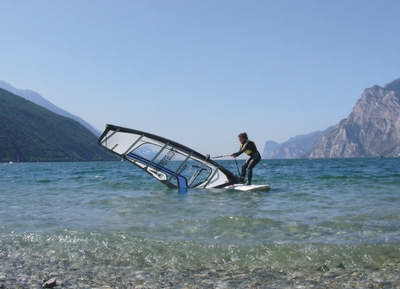 ---
Windsurfing at Lake Garda
---
Not only is Lake Garda a really great place to windsurf, it has become world reknowned as a top surfing location. Windsurfing at Lake Garda really is world class and there are few places to rival this location. It has even played host to prestigious events such as the new RSX world championships. This took place in September 2006, with 42 nations and 240 competitors represented.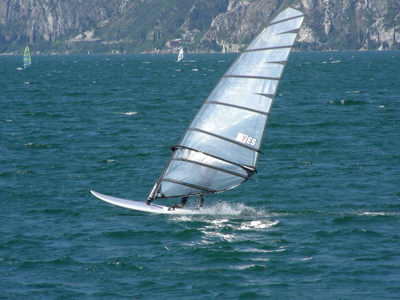 As windsurfing is so popular, there are many places to rent or buy windsurfing gear. You can also do lots of windsurfing courses here, which is a great way to get into the sport or just improve your standard. There are courses for children, beginners, advanced and advanced pro courses. You can also get private one-to-one tution to really enjoy the best surfing training experience.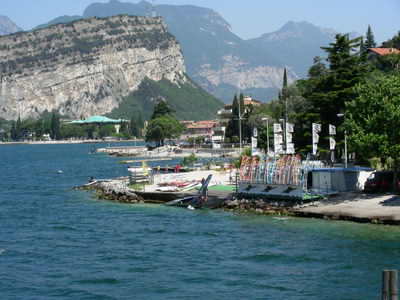 If you are looking for windsurfing at Lake Garda and want to hire equipment, then this is a typical range of boards and rigs you can expect to get:
Bic Nova: 120lt.-248cm to 240lt.-308cm, kids rig micro/mini 2,4-3,0m2


Bic Techno: 118lt.-248cm to 160lt.-255cm, school rig freestand 4,5-5,5m2


Tiga Hyper X: 85lt.-240cm to 130lt.-239cm, freeside rig cruiser 5,0-7,5m2


Tiga Boarder X: 85lt.-244cm to 110lt.-247cm, freerace rig speedster 6,8-7,8m2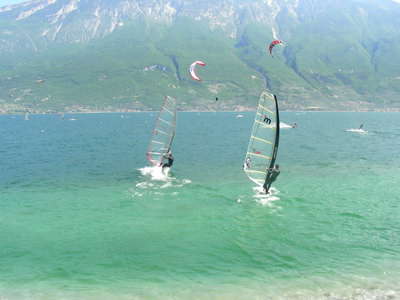 The other great thing about windsurfing at Lake Garda is that the top part of Lake Garda does not allow water skiing and jet skiing, leaving surfers and sailors to enjoy the waters. The public ferries do go to the towns in the north, but they are easy to spot and give you plenty of warning. On some days there are literally hundreds of surfers on the top of the lake, but it is very large, so it doesn't stop your enjoyment in any way.

To learn more about the winds and the best time to surf, check out the wind maps.


Watch a cool windsurfing video at Lake Garda


Click here to go from windsurfing at Lake Garda to the home page