Hello!
Well, the ash cloud has not gone away and transport remains very much a focal point of holiday plans. Last month we focused on travelling by road, so this month we thought as air travel is having a lot of problems, we would look at travelling on water! So this month's newsletter focuses on 2 areas, cross channel ferries and also ferries on Lake Garda itself.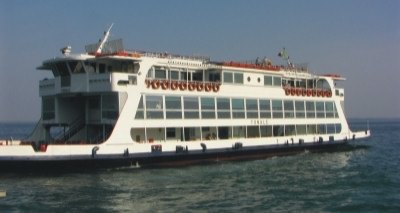 Cross Channel Ferries

Firstly cross channel ferries from the UK to mainland Europe are a key part of driving from the UK. For most people the shortest and cheapest option is from Dover or Folkestone to Calais, Dunkirk or Boulogne. These crossings are only normally around 90 minutes, with boats sailing at regular intervals. You can get even quicker crossings with some types of boats too.


There are several large operators who run these routes, P & O, Sea France and Norfolk Line are the biggest ones. Some offer drive on only tickets (Norfolk Line) while others also take foot passengers e.g. P&O. You should get to the ports at least an hour before sailing to make sure things run smoothly, but if you miss your slot, boats sail every hour or two and so you can just hop on the next one (for no extra charge usually).

As with most types of travel, the earlier you book the better the prices tend to be. They can also run offers from time to time. We have found a great website for searching any route for any operator, to see who offers the best price in one hit. You can search for ferries on the Direct Ferries search box below.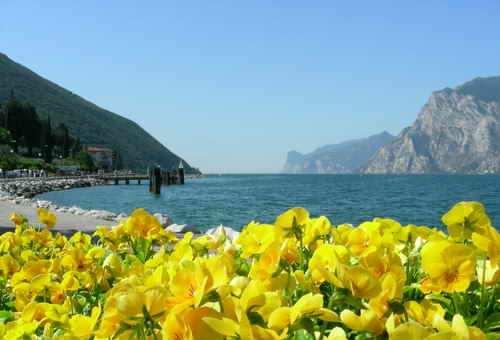 Lake Garda Ferries
This is our favourite way to see Lake Garda! What better way to see the lake than slowing drifting past its' majestic shore line and enjoying the clear waters. The north in particular offers spectacular views of the dramatic mountains, which on the west side are near vertical in places. The ports all tend to be right in the middle of town so a few steps off the boat and you are right in the centre of some great lakeside towns. The other great thing is no worrying about where to park your car, which can be challenge sometimes!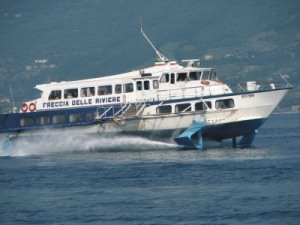 The regular ferries are quite reasonable prices and you can also take your car on if you like, which in the height of summer is probably the quickest way from one side of the lake to the other. The faster ferries are a lot of fun and shorten the longer trips dramatically, but these do tend to be a lot more money, so check before you go. Just pop along to your nearest port and pick up a timetable with all the current options, times and prices.

The regular car ferries tend to go from one town to the next which is a great way to explore the area, but will take a while to go up and down the lake. Remember to check when the last boat runs, if you are doing a long trip, so you can get back OK that day. Remember to put on plenty of sun cream too, as in the summer it is tempting to sit on top of the boat for ages and it is easy to turn a bit more red than brown!!





Main Events
Here are the main events going on in the Lake Garda area this month. There are also loads of smaller things happening in each town everyday, from art exhibitions to sporting events. Please contact us if you want to know what's going on in any particular town during this month and we'll do our best to help you.

Expert Olympic Garda at Riva del Garda on 12-16 May, 2010
This is one of the most important Italian sailing events in the Olympic classes and is not to be missed!


Regata: Megaraduno a remi sul Garda at Desenzano on 16 May 2010
This is a Kayak regatta (race). You can get more info about this here: www.leganavale.it


Wine festival at Bardolino from 21 to 23 May 2010
Every year lovers of wine flock to Bardolino to celebrate the wine Chiaretto with the local population. The wine festival along the lakeside promenade of the lively small town is, in every sense of the word, an intoxicating event and a perfect excuse for a long weekend in the spring time at Lake Garda.


La 5 Miglia del Ghiottone on 2 June 2010 at Tremosine
The "Gourmand's Five Miles" takes you on a five-mile walk through unspoilt countryside, including several stopovers where typical regional food can be tasted.

There are, of course, all the usual markets that are definitely worth going to. To find out more about when and where they are, click here.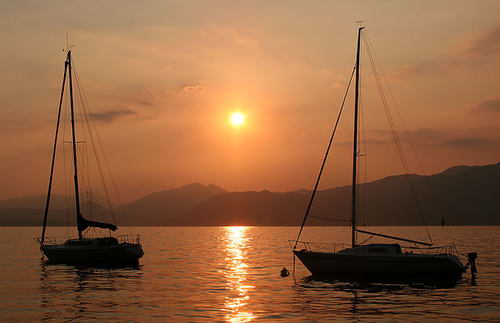 This Month's Featured Hotel
Every month we research and then feature a hotel or apartment at Lake Garda to give you an idea of the accommodation there. We always make sure the hotel has a guest rating of 8 or more (out of 10), so you know it's a decent place to stay!
The Oasi Beach hotel is located in Navene, 5 km from the centre of the lovely town of Malcesine, the pearl of Lake Garda, overlooking the wonderful Benaco area, once praised by Goethe.
This brand-new family run hotel, opened in 2004, offers an Internet point, surf board storage, bike storage, floats for sailing boats and a panoramic garden.
The hotel is in a wonderful position for lovers of windsurf, kitesurf and sailing, who can use the nearby Aqua Centre. Furthermore, the hotel is just a short walk from the Navene tennis courts.
For non sports enthusiasts it is possible to enjoy a really relaxing holiday here, resting in the comfortable hammocks under the olive trees or dedicating oneself to tanning on the beach.
Take a look at the photo and click on the link below to see loads more info & photos!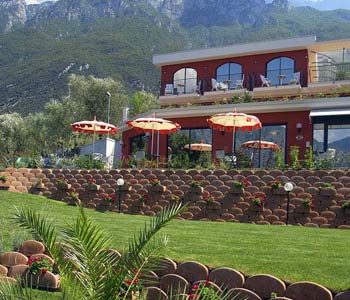 The Oasi Beach hotel at Malcesine


Your Stories

We really want to hear about your Lake Garda experiences and stories, even if it's just a sentence or two. Get your story in a future newsletter and share your experiences with others! Whether you want to share your favourite hotel, town, family outing, or sport you've experienced at Lake Garda, we'd love to hear all about it.


To Conclude...

In summary, ferries are a great way to get around and very relaxing too. If you've not done it before, make sure you try the ferries on Lake Garda next time you go!

See you next month!


Marcus and Sylvia
---