Hello!
Sirmione is by far one of the most popular and busy towns on Lake Garda. I've been keen to write about the town for a while, but I wanted to wait until this time of the year to do it, as now is probably the quietest time of year there. It's somewhere that is a must-see place if you're going to Lake Garda, but I recommend avoiding it in the summer months if you can, simply because it gets packed with tourists!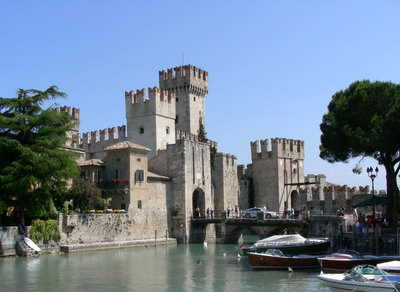 So, what's so special about Sirmione? It's best known for its castle, impressive Roman ruins, natural thermal spas, and charming historic town. You can also take a panoramic walk (signposted) that leads out around the promontory, and on a clear day you can enjoy great views over the lake and towards the mountains in the north.
So although Sirmione is small, it's got a lot of different features that appeal to almost anyone. I'll now take you through the town so you have an idea of what to expect....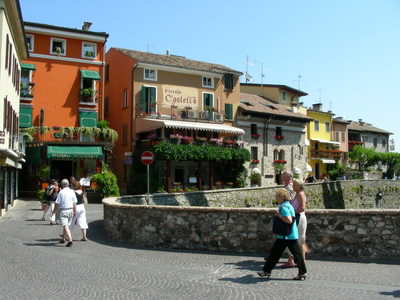 The entrance to this fairy tale historic town is unique, to say the least. Cars aren't allowed into the town (apart from essential vehicles), so you need to leave your car at the large car park, and walk the short distance to the town. The entrance is by drawbridge! You then go through the gate in the 13th Century walls built by the Scaligeri, lords of Verona. (Though the Romans were here first, it was the Scaligeri who built the walls and castle.) Alternatively, you can take the ferry there, which drops you off right into the town.

The historical centre of Sirmione is pedestrianised, so its narrow winding lanes are usually busy with tourists. Orienting yourself can be confusing, but the town is so small that you can't get lost for long. It's packed with things aimed at tourists: ice cream shops, restaurants, and souvenier places that are fun to browse.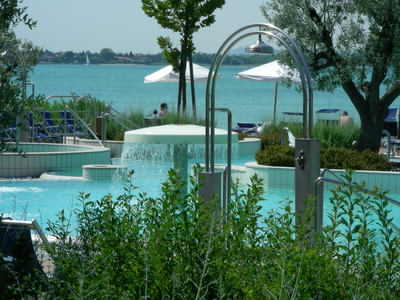 As you continue through the town, you'll eventually come to the Catullo Spa. This is the thermal water that first brought the Romans to the peninsula. Rising from beneath the lake at a temperature of 69C (156F), the sulphurous water is said to be excellent for the treatment of both muscular and sinus problems. Several hotels in the town also pipe the waters and offer thermal treatments to guests.

Sirmione is picturesque throughout, but one of its main tourist attractions is the castle, which is called The Rocca Scaligera. It was built by Mastino I della Scala as a garrison and harbour for his galley feet. Many famous people, including Dante, are reputed to have stayed there. Although the castle is now bare, it is worth a visit for the exquisite view from the central tower that rises 95ft over the lake! This is especially a great treat for children.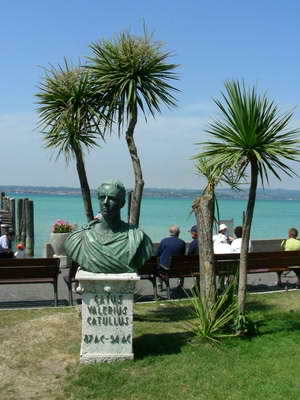 The ruined Roman villa - Villa Romana - is the other main tourist attraction. It's out at the end of the headland, and is very large and impressive. In fact, it was the largest Roman villa in Northern Italy! The poet Catullus had a family home in the Sirmione area, so historically this site has been associated with him, and known as the Grotte di Catullo ('caves of Catullus'). However the villa is of a slightly later date and of a scale and grandeur suggesting a very important and rich owner. The ruins (closed Mondays) are in a lovely setting surrounded by the lake, with lizards scuttling through olive groves. Visitors can wander through the ruined walls and admire archaeological finds - including a charming carving of rabbits - in the small museum.

We hope you get a chance to visit Sirmione if you can. We have several friends who have fallen in love with this particular town, and now go there every year for a holiday! The town is indeed very quaint and charming, and unlike anywhere else you are ever likely to see!

You can find out a little more about Sirmione as well as all the other towns on Lake Garda by checking out our pages about them here.




Main Events

In most towns around the Lake, you'll find many things going on throughout the year, including art exhibitions, festivals, wine and food tastings, theatre events and sports events.

If you'd like to know about any events in particular for this month, then please contact us, as we only cover the main events each month.


Verona - 'Fieracavalli' from November 6th to 9th

When it comes to horses, this is one of the most important trade fairs world-wide. On offer are show jumping tournaments and dressage, shows and parades as well as a large area for children. This trade fair has a long-standing tradition; this year's edition is its 111th.


Riva del Garda - 'Motorissima 2009' taking place on 7th to 8th November
The 17th edition of "Motorissima" concentrates entirely on the world of cars and motorbikes, with an exhibition ground of 15,000 sq. m, it is attracting thousands of affluent motor-sports fans and car-lovers.


Arco - Lake Garda half-marathon on November 15th

This half-marathon starts at Arco and goes through Riva del Garda, Torbole sul Garda, and Nago.


Brenzone - Olive oil trade fair from 7th to 29th November

Castelletto di Brenzone offers plenty of possibilities to taste the high quality of the local olive oil and the dishes which are prepared with this oil. During the "Rassegna dell 'Olio Novello" – which is kind of an agricultural fair – the small village at the foot of Monte Baldo presents each year in November the freshly produced olive oil.



There are, of course, all the usual markets that are definitely worth going to. To find out more about when and where they are, click here.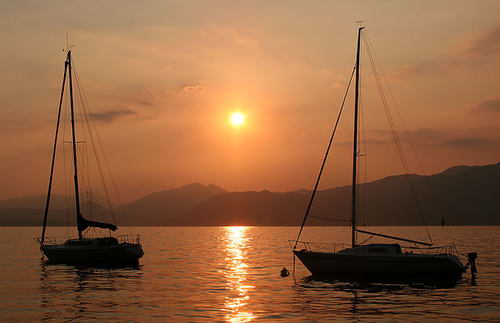 This Month's Featured Hotel
Every month we feature a Hotel in the Lake Garda area so you can get an idea of the accommodation there. We always feature a hotel with a "guest rating" of 8 or more (out of 10), so they are always all-round great quality places to stay.
Hotel Mavino: Hotel Mavino is located in the heart of Sirmione, not far from the castle and in front of a brand-new health and beauty centre, in one of the most colourful and fascinating stretches of Lake Garda.
This hotel, set where nature dominates, combines history and culture. It offers guests a warm welcome, hospitality and attention.
You can see a photo of it below, and look at loads more photos and find out more info about the hotel by clicking on the link below the photo.



Your Stories

We really want to hear about your Lake Garda experiences and stories, even if it's just a sentence or two. Get your story in a future newsletter and share your experiences with others! Whether you want to share your favourite hotel, town, family outing, or sport you've experienced at Lake Garda, we'd love to hear all about it.


To Conclude...

We really hope that you'll get to visit Sirmione, and find out what it's like to experience this fairy tale town. We know that you'll find it absolutely enchanting!

See you next month!


Marcus and Sylvia
---