Hello!
Here we are now, full swing into October. Firstly I'd like to apologize for this month's newsletter being a week late; unfortunately we've all been run down with this awful flu bug that's been going around. However we're pretty much back to normal now and just glad it's behind us!
This month we've got another fantastic story from someone who has just been to Lake Garda, so don't miss reading it.
Last month you may remember I was telling you all about the wonderful and romantic city of Venice. Now I'm going to talk briefly about another great place to go to for an excursion from Lake Garda: Milan.
Milan is the largest city in Northern Italy. It was founded in 222 BC by the Romans, who conquered a Celtic settlement which previously occupied its site. They named the new town Mediolanum, meaning "amidst the plain," which refers to its location in the flatland of Lombardy.
Milan is one of Italy's most fashionable cities and one of the richest cities in Europe but it also holds several historic and artistic attractions, including the largest Gothic cathedral in the world (pictured below), the Last Supper painting, and the famous La Scala Opera House. Travelers to Milan will find a fast-paced, glamorous city with a thriving cultural scene and a top city for shopping. Although the city was heavily bombed during World War II, much of it was rebuilt.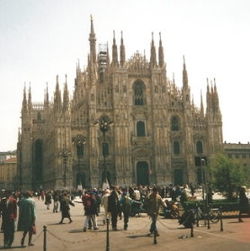 Like I said, Milan is a fashion lovers paradise so you will easily find top quality clothing, footwear, and accessories. Try Corso Vittorio Emanuele II near Piazza della Scala, via Monte Napoleone near the Duomo, or Via Dante between the Duomo and Castle. And you must also go to the elaborately adorned Galleria Vittorio Emanuele at the Piazza Duomo, as it is believed to be the oldest shopping mall in the world!

For exclusive fashions, try the area around via della Spiga called the Quadrilatero d'Oro. Corso Buenos Aires has many chain stores. Many shops are even open on Sunday on Corso Buenos Aires and Via Dante. Markets are also held around the canals.

And for you men, who may not be so keen on shopping - did you know that Milan is the base for two internationally famous football teams? Yep: AC Milan and Inter Milan. If you're a fan, you shouldn't miss a chance to see them play in season.

Other exciting entertainment options include annual traditional celebrations such as the December Festival of Sant'Ambrogio with a lovely Christmas Market, the Carnival Ambrosiano during which people wear traditional costumes, Corteo dei Re Magi on Epiphany Day, and the stunningly colourful April Fair of Flowers.

So, regardless of whether you're in Milan for just one day or several weeks, you'll quickly discover that it's a place where the vibrant heartbeat of rapidly evolving European culture never fails to make itself heard every day and every night.

It's easy to get there from Lake Garda too. Just like with travelling to Venice, the easiest way is to just hop on the train from either Desenzano or Peschiera, and it'll take you directly there.

Take a look at our page on excursions to find out a bit more about Milan and other places you can travel to for the day.





Main Events

In most towns around the Lake, you'll find many things going on throughout the year, including art exhibitions, festivals, wine and food tastings, theatre events and sports events.

If you'd like to know about any of these events in particular for this month, then please contact us, as we only cover the main events each month.

There isn't too much in the way of major events going on this month, but here are a few:

Festa dell'uva e del vino Bardolino
Bardolino Wine Festival
Bardolino, 02-06/10/2008

Ciottolando con gusto
Enogastronomic event
Malcesine, 04-05/10/2008

Festival Scacchistico Internazionale "Città di Arco"
Chess tournament
Arco, 18-26/10/2008

There are, of course, all the usual markets that are definitely worth going to. To find out more about when and where they are, click here.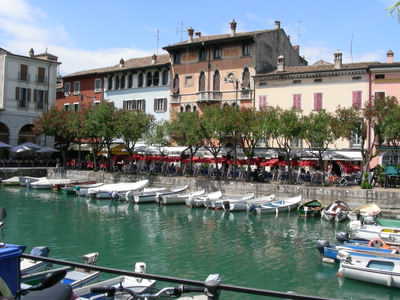 Your Stories
And now for our story this month! This was sent in by Judy from the USA who stayed at the town of Desenzano (pictured above)...
"One of my favorite ways to experience Lake Garda is to stay a few days or a week in one of the lovely family owned hotels along the lake. By using the half-board rate (2 meals daily) you get a feel for how the Europeans travel, you meet some interesting people and you get to eat real authentic home-style cooking.
For my last trip (September 10-17, 2008) I took a group of 17 Americans for 7 nights at the Hotel Europa in Desenzano del Garda. I like this city for many reasons. It is the most active city on the lake and accessible by car, boat, bus and train. Lots of narrow cobblestone streets with great little shops, a long waterfront to walk any time of day or night and a terrific mercato every Tuesday.

At the 3 star Hotel Europa (be sure to ask for a room with a view of the lake) we enjoyed watching the ducks swim by our room each morning. The entire staff at the hotel is terrific. Nadia is wonderful and wise. Emma is a joy in the dining room any time of day. We traveled extensively through Italy. But only at the Hotel Europa were we greeted with breakfast rolls just out of the oven. What more could we ask for? Oh yes, free Internet, too!
The dinners were fabulous. As is typical, we chose entrees from a menu distributed the night before, sat at the same table and even used the same napkin (until it was time to wash!) The Italians are very eco-conscious and we could learn a lot from them.


Our meals were very delicious, varied and typical of the region...First course was risotto, pastas or soups, all excellent. Second courses included fresh fish from the lake and roasted meats. My favorite dish of the week was the gnocchi. We had a different dessert each evening, too, and always bowls of fresh fruit."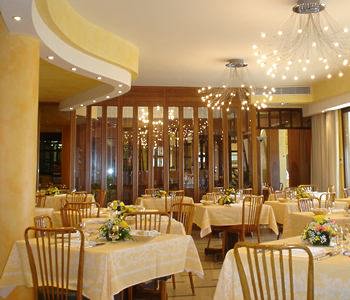 The dining room at the Hotel Europa, where Judy enjoyed her meals!
"One of the highlights of our week was a Sunday Picnic, Italian-Style...a sort of Shopping Scavenger Hunt. Many of the stores in Italy sell just one item: fruit, bread, meat etc. So everyone was instructed to choose a partner, shop like an Italian, take photos and gather for lunch back at the Hotel Europa where we sat outside by the lake and ate and drank for 3 hours!
The "hunt" started with mass at the Chiesa di Santa Maria Maddalena which houses a beautiful Last Supper by Giambattista Tiepolo. After mass, a walk to the Piazza Malvezzi near the old port with stops at the Pasticceria, Fruit stand (by the way, when you purchase fruit in Italy, the vendor prefers that you point to the fruit so he can bag it for you. They don't like the fruit being touched) and the Alimentari.
The final picnic was phenomenal. No duplicates. Great wines from the region. We determined who were our best shoppers, who got the most, but spent the least, who found the best wine and who found the tastiest food. It was our best and most fun lunch during the entire trip. Buon Appetito!"
Judy Wolfe (USA)
Thank you Judy, for your story! After reading it, I'm desperate to try out the Hotel Europa. If the rest of you want to check it out, you can find out loads more about the hotel and look at more photos of it here.





As for the rest of our subscribers, we really want to hear about your Lake Garda experiences and stories too, even if it's just a sentence or two. Get your story in a future newsletter and share your experiences with others! Whether you want to share your favourite hotel, town, family outing, or sport you've experienced at Lake Garda, we'd love to hear all about it.


To Conclude...

We hope that you've now been convinced to visit Milan for the day while you're at Lake Garda. Happy shopping, if you do go! And don't forget to check out the Hotel Europa at Desenzano!


See you next month,



Marcus and Sylvia
---