Hello!
Once upon a time, there was a German doctor & climatologist by the name of Ludovic Rohden. Sometime in the late 19th Century, he came to visit the Western shores of Lake Garda and was astonished by the benign nature of the climate. Not only were the winters mild, but they were consistantly so - offering an escape from snow and cold.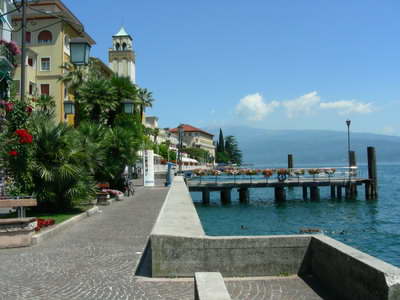 Well, let's fast-forward to the present: We're into October now, and it'll soon start to get colder, which is why I though I'd write about Gardone Riviera this month - and maybe tempt you to discover it like Rohden did! In fact Rohden loved it so much that he started building expensive villas along the shore - the riviera - and all around the town of Gardone. Even the Austrian Emperor was tempted, and he had the Villa Alba built in 1904. This villa stands behind the Torre San Marco, and is now a conference center. Hotels also sprang up, one of the finest being the Grand, built in the 1880s by the German architect Ludwing Wimmer. If you take the ferry into Gardone, it's the first hotel you'll notice as the ferry approaches the town. You can see by the photo of it below, that it really is Grand!!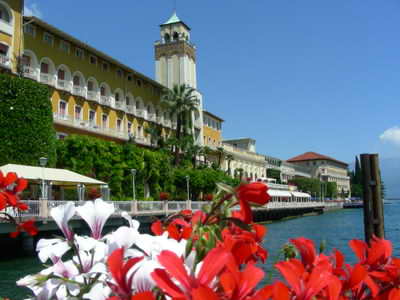 Not only is Gardone known for its abundance of lovely villas and hotels, it is also well known for its Hruska Botanical Gardens (or Giardino Botanico Hruska, in Italian). There are over 2000 varieties of plants and flowers that thrive because of Gardone's climate. The rock gardens are claimed by many authorities to be the finest of their kind in Italy, if not in Europe - so they are a must-see!

The lakefront here, like the Gardens and buildings, is very pretty. It is basically a pedestrian area with lots of seats and ornate lamposts with hotels and restaurants behind. There isn't really any significant beaches or port area close to the town centre, so the town tends to be more popular for lakeside strolls or watching the world go by. This is probably why it is often favoured by the some of the older generations who really appreciate the lovely surroundings.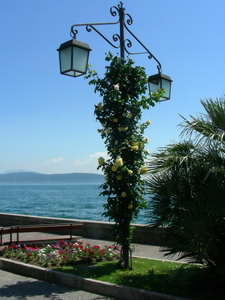 It is less suited for those who want an active holiday, and for young families there may be less to do than in some towns. However, if you have a car, it is a short drive to some beaches and you can always hop on a boat from here to most towns on Lake Garda. The roads, though, can get quite busy and it is another place where parking can be hard to find.

Having the hills and moutains behind means you can also find accommodation a little away from the lake that offer great views over water. As with a lot of towns here, it is quite a long thin shape in order to maximise the lake frontage. The town has a elegant and cultured appeal which many will find very attractive.

Hopefully we've persuaded you to see Gardone! You can also find out a little about the other towns by checking out our pages about them here.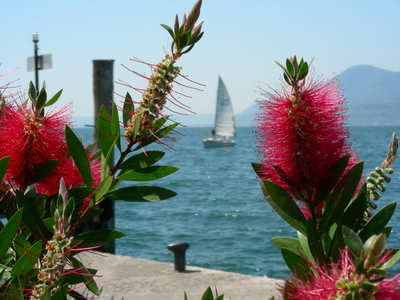 Main Events

In most towns around the Lake, you'll find many things going on throughout the year, including art exhibitions, festivals, wine and food tastings, theatre events and sports events.

If you'd like to know about any events in particular for this month, then please contact us, as we only cover the main events each month.


Limone - 'Bike X-treme' on October 10th and 11th

The panorama is unique and the view down is breathtaking – the Tremalzo pass is the shining star of mountain-biking along Lake Garda. On Sunday, October 11th, 2009 this particular stretch of road belongs to the participants of the international mountain bike race "Adrenalina Bike X-treme", which starts at 10:00 in Limone.


Malcesine - 'Adrenalina 2009' on October 10th and 11th

This event on Lake Garda for paragliders takes place in the breathtaking surroundings of Monte Baldo. Spectacular landing competitions, gastronomic stands and parties as well as a varied entertainment programme and exhibitions will provide ample amusement.


San Zeno di Montagna - 'Chestnut festival' on Oct 17th - Nov 1st

During the harvest festival of the chestnut the main ingredient of all dishes is this nutty fruit. In this period one has the chance to taste traditional dishes and thus discover new delights for the taste buds.



There are, of course, all the usual markets that are definitely worth going to. To find out more about when and where they are, click here.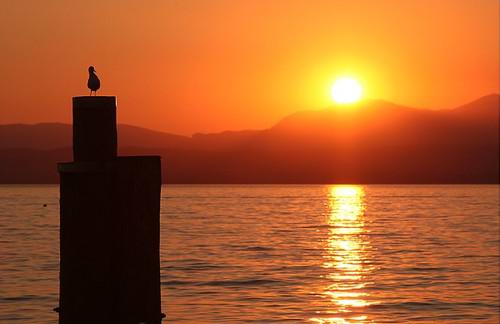 This Month's Featured Hotel
Every month we feature a Hotel in the Lake Garda area so you can get an idea of the accommodation there. We always feature a hotel with a "guest rating" of 8 or more (out of 10), so they are always all-round great quality places.
Grand Hotel: Conveniently located in Gardone Riviera right in front of the enchanting lake Garda, the luxury Grand Hotel Gardone is an elegant 19th century building ideal for a prestigious four star hotel stay in Gardone Riviera.
This lake Garda hotel amenities include a restaurant with terrace and panoramic views over lake Garda, where guests can enjoy a wide range of delicious Mediterranean specialties, a stylish piano bar for relaxing moments and after dinner breaks, private beach and outdoor swimming pool with sun terrace and pool-bar.
The Grand Hotel Gardone also features a modern conference centre, with large meeting and conference rooms.
You can see a photo of it below, and look at loads more photos and find out more info about the hotel by clicking on the link below the photo.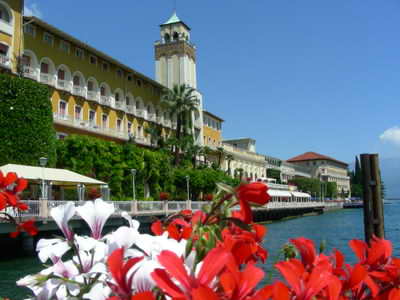 Your Stories

We really want to hear about your Lake Garda experiences and stories, even if it's just a sentence or two. Get your story in a future newsletter and share your experiences with others! Whether you want to share your favourite hotel, town, family outing, or sport you've experienced at Lake Garda, we'd love to hear all about it.


To Conclude...

We really hope that you'll get to visit Gardone...you will fall in love with the climate and beauty of this gem of Lake Garda.

See you next month!


Marcus and Sylvia
---