Hello!
Well, we're full swing into summer now! It may be hot here (briefly), but July and August are known for being the hottest months, usually consistantly, at Lake Garda. Traditionally a lot of Italian workplaces close during August, so many Italians have the whole month off! So that, coupled with the large amount of tourists there on holiday in August, makes it a very busy month too!
But the atmosphere in the summertime there is fantastic! Everyone eats outside and listens to the live bands and watches the artists along the promonades. And throughout the hot day and into the evening, you'll notice a lot of people eating ice cream to cool off! And that's what we're going to talk about this month: the delicious ice cream there!!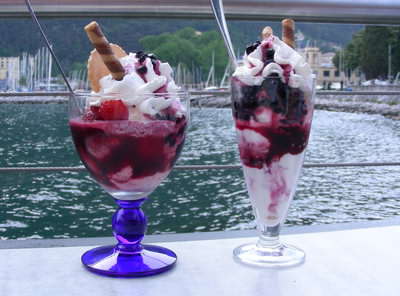 Italian ice cream...what can I say except that it is something we indulge in every day when we're there in the summer, because it is just so good! There are so many different types here, not only flavours but styles too. It's easy to see why the Italians are world famous for their ice cream. There is nothing better than to get stuck into one of the massive glasses of ice cream whilst sitting by the lake on a hot day!

If you've not been to Lake Garda before, one thing that will amaze you is the sheer number of ice cream shops here. They are everywhere and you always get a massive selection to choose from. The ice cream shops just tend to sell ice creams in different sized cones or tubs, whereas cafes and restaurants do loads of fancy, often huge, ice cream dishes which are gorgeous!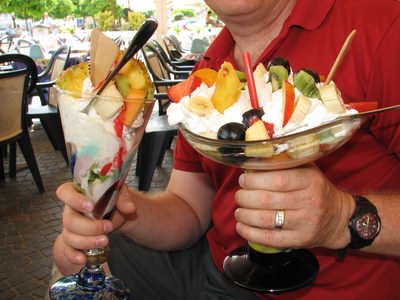 These wonderful ice cream dishes, usually served in huge glasses, are a real work of art and taste absolutely stunning! You can choose from loads of different fresh fruit concoctions and whether you want one with tons of fresh cream or just ice cream. Whichever you choose, I can assure you that I have yet to try one that I didn't really love. They all taste heavenly!

It is normal here to have a choice of 30 or 40 different flavours! There is every type of fruit flavour you can imagine, chocolate combos and much more. When we get a cone or tub we often ask for 2 or 3 different flavours and try out some new ones. So, forget the diet while you're there; you simply have to get stuck into some unbelievably tasty and refreshing Lake Garda ice cream!

The ice cream isn't the only thing that'll get your tastebuds going...there's lots of lovely Italian food to try out too!!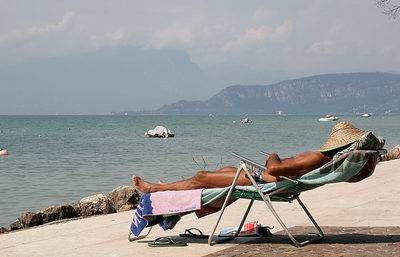 Main Events

In most towns around the Lake, you'll find many things going on throughout the year, including art exhibitions, festivals, wine and food tastings, theatre events and sports events.

If you'd like to know about any of these events in particular for this month, then please contact us, as we only cover the main events each month.

Here are the main Events going on in August...

Musica Riva Festival -
International meeting of young musicians.
Riva del Garda, 19/07-02/08/2008

Arena di Verona: Stagione Lirica -
The Arena of Verona will once again be the setting for the Opera Festival, which has reached its 86th season.
Verona, 20/06-31/08/2008

Armonie sotto la Rocca -
Harmonies under the Rocca: Summer International Music Festival.
Manerba del Garda, August 2008

Notte d'incanto - Enchanted Night with fireworks display on the Lake.
Desenzano, 11/08/2008

Notte di Fiaba -
A journey into the fairy-tale...fête and fireworks on the lake.
Riva del Garda, 28-31/08/2008

Festival del Garda - Singers and music.
Lago di Garda, summer 2008

Palio delle Bisse -
Traditional summer race between "bisse", Venetian-style boats which compete for the 'Bandiera del Lago'.
Lago di Garda, summer 2008

Teatro del Vittoriale - Season of prose, operetta and dance.
Gardone Riviera, summer 2008

There are, of course, all the usual markets that are definitely worth going to. To find out more about when and where they are, click here.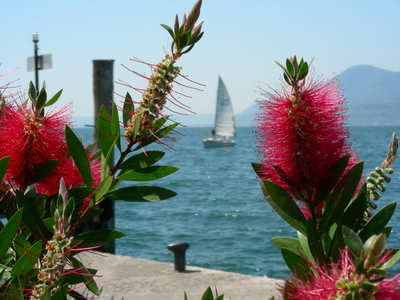 Your Stories
I'm pleased to say that we have another great story for you this month about someone's coach trip to Lake Garda. Thank you, Nikki, for your very entertaining story!! Here it is:
Hi,
I used your site to give us tourist information when we went to Garda for the first time. Here is a bit about our trip...
For a start we weren't supposed to be going. My mother and my aunt both fell in love with Garda and flew there for many years. Then aunt had to start taking warfarin and this curtailed their over seas adventures, or so they thought. They started travelling around the UK using Shearings coaches.
My husband discovered that Shearings did coach trips to Garda soooo.... without further ado, the trip was booked for April this year. Unfortunately aunt hurt her wrist and was advised not to travel and so they both very kindly gave us the holiday as an easter present. Front seats as well, which suited my husband down to the ground as he is a keen photographer.
After a lot of jibes from our friends about us being the youngest ones on the coach, we set off from our local bus station on a feeder coach. That was the last time we touched our luggage until it arrived in our room at our hotel - first big plus for travelling by coach. Second big plus - no hanging around waiting in the airport, just a brief half hour at Dover before getting on the ferry.

The two drivers met us at Dover with the English coach and were with us all the way, during our stay and all the way back to Dover. We travelled overnight although there was an option for an overnight stay en route but we didnt want to miss the extra nights in Garda since we had never been before.
We arrived in Garda at 11ish the following morning having made various short comfort stops along the way and to change drivers. We saw Lake Lucerne at 3am (well some of us did) it was well worth staying awake for!
The Hotel Imperial is a comfortable 3 star hotel, the trip included dinner bed and breakfast. Big room, tv with wc shower and bidet. The food choice for dinner was a little limited to three choices but they were very well prepared and as long as there was one which appealed the limited choice was irrelevant!
As we had not been before we decided to go on each of the coach trips offered. Three of them were included in the price and we paid a nominal amount for the other two.

Monday was a lake trip, starting with a speed boat trip to Sirmione. It was raining and the lake was more like a rough sea so we werent able to go very fast. We went past the hot springs which come up from the lake floor and warm the water, we could just about make out the bubbles amongst the waves!! We had coffee in a cafe and had a wander around the castle and shops before going back to the coach. We then headed off 'up lake' to Riva del Garda where we had time to stop for lunch and have another look round the shops. Best risotto I have ever had.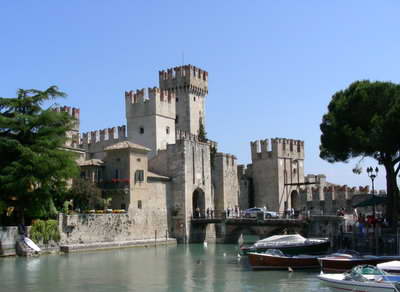 Tuesday was an inclusive day trip to Venice. It stopped raining whilst we were there. We took a short ferry trip over to the island and met our tour guide in St Marks Square. She took us to the Bridge of Sighs, the Cathedral and the Rialto Bridge. We had gondolas booked down one of the side streets which was just as well as the river front was very choppy!! The trip took about half an hour and we all arrived back safely despite the gondoliers having a race!! St Marks Square was partly flooded when we went back as the tide was coming in. We had a couple of hours for further sight seeing/shopping before meeting back at the ferry.

Wednesday was Vicenza which is memorable for its huge market although everything closes at about 1.30 and then reopens around 3 pm so if you are on a coach trip it is wise to buy things on your way into the town rather than on the way back as they are still shut when you have to leave!! We had a huge pizza in one of the cafes in the back streets, best one we have ever tasted.

Thursday - Verona. We had another tour guide who came with us on the coach. First we went to the hills so that we could look down on Verona to view the city walls and just make out the arena. Then down into the town to view the different ages of architecture and the balcony where Juliet is said to have been wooed by Romeo. Then free time to have lunch and explore the markets and climb the viewing tower and the arena.

Friday - this was an inclusive all day trip to the Dolomites. It took a couple of hours but the scenery on the way was fantastic. There was plenty of snow up there and we stopped at a lovely little restaurant for lunch, then a snowball fight, before making our way back down again.

Saturday was a free day as we were leaving at 5pm for our journey home. We took a boat down to Lazise and had a walk round the market square. We had to get back to Garda by lunchtime as Manchester United were playing!!!! We found a bar and had a meal and then I went souvenir shopping whilst the men watched TV = no change there then!

We boarded the coach, had supper in Switzerland, Loo break in Luxembourg, and Breakfast in Belgium. Then the ferry from Calais back to Dover and back on the feeder coach to our local bus station.

And yes we were the youngest ones on the coach but heh no kids, no lager louts and no rushing about!!!

Would we go again? Certainly would - and by coach!! We met some great people on that coach and we have never laughed so much in ages, we are very proud to be wrinklies!!!!

Nikki (United Kingdom)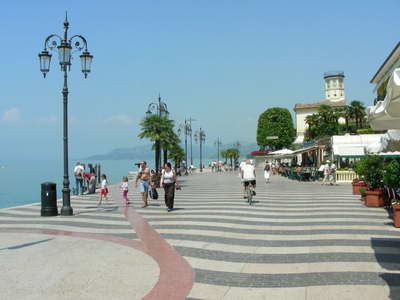 Thank you once again, Nikki, for sharing that with us all! The above photos are of the castle at Sirmione and the promonade at Lazise, just 2 of the many places Nikki visited!

As for the rest of you...we really want to hear about your Lake Garda experiences and stories too, even if it's just a sentence or two. Get your story in a future newsletter and share your experiences with others! Whether you want to share your favourite hotel, town, family outing, or sport you've experienced at Lake Garda, we'd love to hear all about it.


To Conclude...

So why not try going to Lake Garda by coach like Nikki did?! And once you get there, don't forget to try the yummy ice cream there, even if the weather isn't hot!!



Marcus and Sylvia
---