Hello!
Well, it's definately starting to cool down here in the UK; in fact it's been unusually cold lately!! Being Canadian, I should be used to the cold, but I find that it goes right through me here. It's also cooling down at Lake Garda...but still pleasant enough to explore all the towns.
However a nice way to have a break from exploring and shopping is to sit down with a nice cup of coffee in hand. It's a great way to warm up too! Here's the types of coffee you'll generally find there:
Caffè: a small cup of very strong Italian coffee (espresso). It is always drunk black and quite bitter-tasting, but you can add lots of sugar to take away some of the strength! It's traditionally drunk in the evenings, after a meal.
Caffè Americano: This is basicly espresso that's been watered down to make it more like 'American' coffee...but different tasting and still quite strong! It's served in a large cup, and can be drunk anytime...it's kind of geared towards the tourists that can't handle espresso(like me!).
Caffè Corretto: Any type of espresso or coffee with a shot of grappa, cognac, or other spirit. Usually drunk after dinner.
Caffè Doppio: Double espresso, for those who can really take their caffeine!
Caffè Freddo: Iced coffee. Great for sitting by the lake and cooling down on a hot summer afternoon.
Caffè Hag: Decaffeinated coffee...I'm afraid it doesn't do me much good!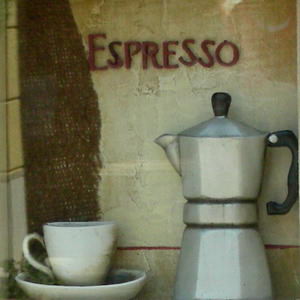 Caffè Latte: One-third of espresso (about 30 ml) mixed with hot milk and served in a glass. 'Latte' means milk. Usually only drunk at breakfast. In some places, this coffee type is unusual (Italians hardly ever have milk in their coffee); once when I asked for a caffè latte, the waitress gave me a puzzled look and came back with one cup of espresso and one cup of hot milk!

Caffè Macchiato: Espresso "stained" with a drop of steamed milk. It's kind of like a small version of a cappuccino. Again, usually a morning drink (one of my favourite types of Italian coffee).

Caffè Marocchino: Espresso with a dash of hot milk and cacao powder. Usually drunk in the mornings.

Caffè Stretto: Espresso with less water for the seriously brave! This will give you a major caffeine kick!

Cappuccino: Espresso infused with steamed milk and served in a large cup. It's always drunk in the morning, never after lunch or dinner.

Granita di Caffè con Panna: Partially frozen coffee with ice, similar to a slush, and topped with whipped cream. Lovely in the afternoons!

So go on, take a break and try all the different delicious and full-flavoured coffees!!

And don't forget to check out our page on Italian food...we even have a menu translator that's very handy to take with you on your trip! Take a look here...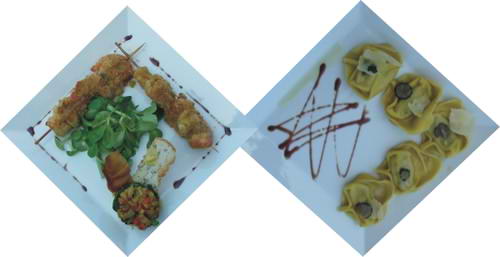 Main Events

In most towns around the Lake, you'll find many things going on throughout the year, including art exhibitions, festivals, wine and food tastings, theatre events and sports events.

If you'd like to know about any of these events in particular for this month, then please contact us, as we only cover the main events each month.

As it's a quiet time of year, there's not too much in the way of major events going on this month, but here are a couple:

Motorissima
Exhibition dedicated to the cars and motorcycles
Riva del Garda, 08-09/11/2008

Garda Trentino Half Marathon
International race
Riva del Garda, 16/11/2008

There are, of course, all the usual markets that are definitely worth going to. To find out more about when and where they are, click here.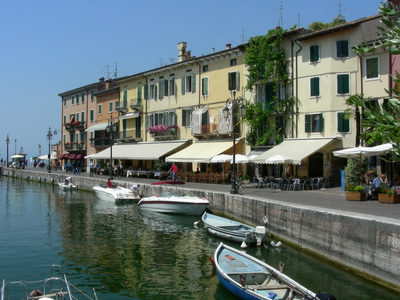 Your Stories
And now for our story this month... "Trains, planes and automobiles can be a hectic way to travel. But at Lake Garda, a bus and a boat provide a perfect blend of scenery, history, relaxation and fun. Traveling along a cliff road, you'll see steep-sided shores and picturesque villages nestled between the mountains and lakeside. The views are spectacular.
Several tour companies offer a tour of Lake Garda. I happen to like the one offered by Viaggi Molinari. The all day Circle Lake Tour starts out by bus and stops in cities along the lake you may not know or may not be easily accessible. You also pass through 3 different provinces in one day - Brescia, Veneto and Trento.
First stop is the walled city of Lazise. It's an early arrival and not all of the shops are open yet. So why not attend mass in the lovely church? What a calm and spiritual way to start your day! Next stop is lovely Malcesine. This city has many things to do and is actually worthy of a few nights stay. However, for your scheduled tour stop, use the time to explore all the beautiful pottery shops. Your next dinner party will be incredible with the amazing choice of dishes, bowls and other Bassano pieces at super prices.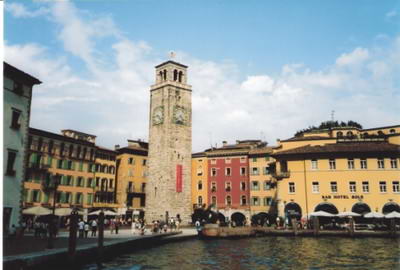 "On to Riva del Garda, an elegant town of cobbled streets tucked away in the farthest northern corner of Lake Garda. It is a colorful collection of hotels, restaurants and historical sights. And there is plenty of time to soak in the scenery with a nice long lunch. Although there are many great places to eat, try the Bella Vista. The food is good, priced well, and the restaurant overlooks the lake with its many swans and windsurfers. The tagliatelle is excellent with a side of roasted veggies and a lovely local wine.

From Riva, you board a boat to your next stop, lovely Limone, a town so picturesque you'll think you are part of the picture! This is just the place to have a refreshing drink or gelato. Lemon, of course! Or have a spaghetti eis, an ice cream concoction that will amaze you.

Leaving Limone by bus you pass through many tunnels (previously seen from across the lake as you traveled between Lazise and Riva). The 2008 James Bond film, Quantum of Solace was partly filmed in these tunnels as well as other areas near Limone.

Sit back, relax and enjoy all the Lake Garda cities that you pass through to get to your final stop. Gargnano, Maderno, Fasano, Gardone Riviera and Salo are just a few. There is no better way to see all of the picture perfect and unique Lake Garda cities that have rich and colorful histories. Perhaps you'll see one or two that beckon you to return and explore on your own. After all....you can't have a favorite place until you've seen them all!"

Pat Nicholanco, Sea Isle City NJ USA

Thank you Pat, for your story! Very well written and interesting!


As for the rest of our subscribers, we really want to hear about your Lake Garda experiences and stories too, even if it's just a sentence or two. Get your story in a future newsletter and share your experiences with others! Whether you want to share your favourite hotel, town, family outing, or sport you've experienced at Lake Garda, we'd love to hear all about it.


To Conclude...

If any of you are going to Lake Garda this winter, don't forget to try all the different coffees...and then tell us what you thought about them! We'd love to hear from you!


See you next month,



Marcus and Sylvia
---