Hello!
April is here already...it's hard to believe, considering what awful weather we've had in the UK lately!
I'm afraid I've got some bad news: after this month, I won't be doing the newsletters anymore, in fact I think we may be getting rid of our website altogether....
Just Joking, of course! It's April Fool's Day today! Did I almost fool you?!
Now, back to our newsletter and topic of the month...you may remember that last month we talked about why Lake Garda is a wonderful place for families with children. Well this month our focus is on all of you watersport-mad people out there. Lake Garda is a paradise for water sports, be it waterskiing, jetskiing, kite-surfing, sailing, and of course, the extremely popular sport out there...windsurfing!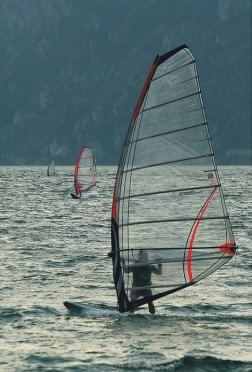 Let's go over each sport now briefly...

Windsurfing: Probably the most popular watersport to do on the lake. It's generally done on the North part of the lake where the reliable winds are the best. It really is a windsurfer's paradise, and the towns there, particularly Torbole, really cater for the sport, offering equipment rentals and lessons. On our website, you can learn about all about the different winds on the lake, what equipment you can hire there, and you can even check out a great video on windsurfing at Lake Garda. Take a look here...!

Sailing: Another very popular sport at Lake Garda. Again, it's done mainly at the North of the lake; the towns of Riva and Torbole are known to be the most popular towns in connection with sailing, as there are lots of sailing competitions that go on at them throughout the summer. There's a sailing video, a list of what you can expect to see at a sailing center at Lake Garda, and more info about the sport here.


Waterskiing and Jetskiing: These sports are enjoyed on the south end of the lake. The calm waters and abundance of space make ideal conditions for the sports! Find out more (like why they are resricted in certain areas) here.


Kite-surfing: This is quite a new sport, but rapidly gaining popularity. It's amazing watching these surfers fly up into the air, do flips, and cruise along at high speeds across the water! We have some great photos of kite-surfers and more info here!


Scuba-diving and Snorkelling: Believe it or not, scuba-diving goes on at Lake Garda too, and you'll see snorkelling as well. We've got more info for you, including a list of Diving centers, here!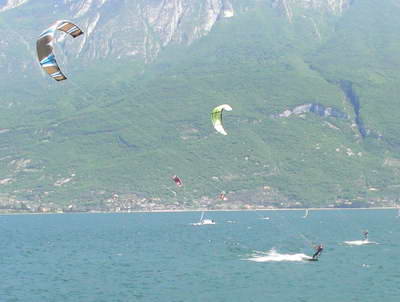 Main Events

If you want a bit of a break from all the excellent watersports you'll be doing, then check out some of these events going on in April. You'll find many things going on throughout the year, including art exhibitions, festivals, wine and food tastings, theatre events and sports events.

If you'd like to know about any of these events in particular for this month, then please contact us. I used to try to list some of them, but there are far too many! We will, however, focus on the main events that are going on this month. Let's take a look now at the main Events for the month of April....

1 to 10 April: Sirmione - Pink Floyd exhibition

11 to 13 April: Around Lake Garda - "500 Miglia Tour" - A 500 mile Tour of old cars and motorbikes

15 to 19 April: Malcesine - "Garda in Coro" - International Choral Competition for Children's Choir

19 to 20 April: Lonato - "Fiori nella Rocca" - Flower exhibition

22 to 25 April: Arco - "Giro del Trentino" - Professional cycle race

25 to 27 April: Bogliaco di Gargnano - "Giardino di Delizia" - This exhibition presents plants and flowers reflecting the style of ancient gardens

There are, of course, all the usual markets that are definitely worth going to. To find out more about when and where they are, click here.






Your Stories

We want to hear about your Lake Garda experiences and stories. Get your story in a future newsletter and share your experiences with others! Whether you want to share your favourite hotel, town, family outing, or sport you've experienced at Lake Garda, we'd love to hear all about it.

All the watersports out there are pretty amazing, and great for all levels...You'll definitely not regret giving some, or even all, of them a try!

Take care and see you next month.



Marcus and Sylvia
---