Hello!
July is here already...I'm sure that a lot of you are getting ready for the kids breaking up this month from school (here in England anyway...) for the summer holidays. The rest of you, such as those in Scotland, the USA, and Canada (my homeland) must already have the kids at home!
You're probably all thinking about your holiday this summer and getting ready for it now. It's an exciting time of year! I know that some of you are planning a trip to Lake Garda this summer...so this month I'm going to fill you in about the different types of accommodation at Lake Garda; let you know what to expect from them.
There are several types of accommodations: Hotels, Residences, Villas, Agriturismos, and, for those who really want to be 'at one' with nature...Camping!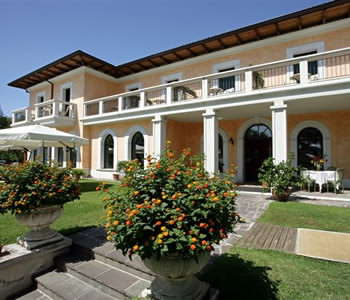 The beautiful Hotel Sogno at San Felice del Benaco

Hotels: This is probably the most popular type of accommodation at Lake Garda. You'll find that the hotels there aren't the typical large 'chain'-type hotels that you would see at many holiday resorts. They all have their own unique character and tend to be run by a local family, so it's a nice personal atmosphere! We have loads more info about hotels, including the types of hotels you'll find there and what facilities they offer... here.


Residences/Apartments: The Residences at Lake Garda are ideal for families. A residence contains a number of self-catering apartments in one building, and tend to be in the towns..so you can get by without hiring a car. The individual apartments often have shared facilities, such as a pool, that the whole residence will use. Residences make for a great value holiday too! You can find some more details out about them here...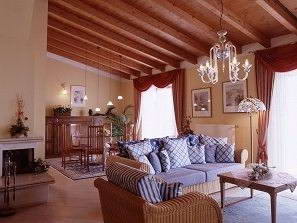 The lovely lounge of Residence Piccola near Tremosine

Villas: There are all sorts of Villas around Lake Garda and they vary greatly in size. One thing that most of them have in common is that they are often on the outskirts of the towns and villages, so they are very peaceful and quiet! They are usually owned and managed by a local family and tend to be self-catering. It's important to note that there are two types of Villas: Independent Villas and Villa Hotels. Find out more about these 2 types, and well as some more general info about Villas.


Agriturismos: The meaning of 'Agriturismos' really says it all. It literally means 'Farm Holiday'. They are usually a Bed and Breakfast type of accommodation, and set in the country - often amoungst the vineyards! You will experience some wonderful home-made foods and wines at many of the agriturismos, and they are wonderful value too...the best value type of accommodation you'll find at Lake Garda, apart from camping. Take a look at our page about the types and facilites of the agriturismos.


Camping: This is, by far, the best value accommodation at Lake Garda! When I hear the word 'camping', I automatically think of a million tents crammed together on a campground, with poky fires, horrible toilets and no showers...but when we visited some of the campgrounds at Lake Garda, we were pleasantly surprised! There are some lovely campgrounds right on the lake with their own private beach, and you can even hire air-conditioned units at them. As you can tell I'm not a camping type of person...but after seeing some of the camping facilities there I'm very keen to stay at one! Check out our page for some more info about camping...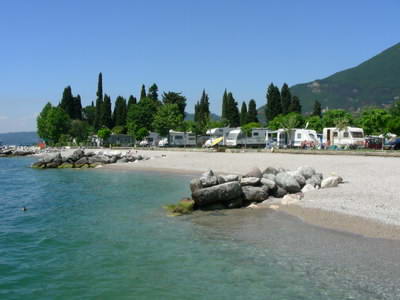 Main Events

In most towns around the Lake, you'll find many things going on throughout the year, including art exhibitions, festivals, wine and food tastings, theatre events and sports events.

If you'd like to know about any of these events in particular for this month, then please contact us, as we only cover the main events each month.

Here are the main Events going on in July...

Parasplash Show -
Spectacular paragliding show.
Malcesine, 12/07/2008

Jeantex Bike Transalp - Mountain bike orienteering challenge.
Füssen - Riva del Garda, 19-26/07/2008

Musica Riva Festival -
International meeting of young musicians.
Riva del Garda, 19/07-02/08/2008

Arena di Verona: Stagione Lirica -
The Arena of Verona will once again be the setting for the Opera Festival, which has reached its 86th season.
Verona, 20/06-31/08/2008

Garda Jazz Festival
Garda Trentino, 27/06-06/07/2008

Festival del Garda - Singers and music.
Lago di Garda, summer 2008

Palio delle Bisse -
Traditional summer race between "bisse", Venetian-style boats which compete for the 'Bandiera del Lago'.
Lago di Garda, summer 2008

Teatro del Vittoriale - Season of prose, operetta and dance.
Gardone Riviera, summer 2008

There are, of course, all the usual markets that are definitely worth going to. To find out more about when and where they are, click here.




Your Stories
I'm pleased to say that we have a wonderful story for you this month from one of our subscribers! Here it is...
Dear Marcus and Sylvia:
Our trip to Italy was wonderful! We had visited many places during our 15 day trip beginning in Rome, traveling south to the Almafi coast and north to Lake Garda.
Our most memorable visit was in Torri Del Benaco where we spent the last four days of our trip visiting my husbands' family, which we didn't know about until two years ago! This was so "exciting" and to think they reside in lovely Torri Del Benaco! We loved meeting the family. They were all so very gracious and hospitable and saying goodbye to them was difficult as it was to leave this lovely land!
Torri Del Benaco is beautiful. We were in awe of Lake Garda, all the little shops, the castle and restaurants along the water, what a wonderful place to visit, we cannot wait to go back.
During our visit and stay with family, they took us up to the top of the mountain in Torri and showed us the villa that my husbands' grandfather was born in! Can you imagine how wonderful that was? Also in the town is a very old, small church dedicated to WWI soldiers. My husbands' great grandfather, Guerino Alberghini's name is engraved in stone (along with others) inside the church for having fought and died during World War I.
It was very touching to be able to find our family roots and still have a number of family members residing in this beautiful little town on Lake Garda. It was sad leaving our new found family and this beautiful place called Torri Del Benaco.
We plan to return within the next few years, spending more time with our new family and exploring more of what Lake Garda has to offer.
Thank you both for the information provided on your web site, I always look forward to your newsletter.
Nancy Alberghini, United States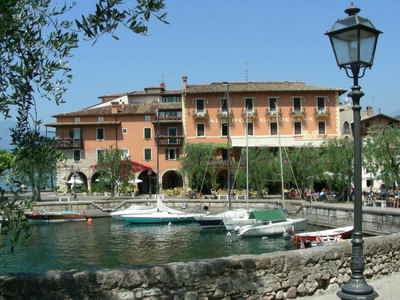 What a great story! Thank you, Nancy, for sharing that with us all! The above photo is the port at Torri del Benaco, where Nancy went.

As for the rest of you...we really want to hear about your Lake Garda experiences and stories too! Get your story in a future newsletter and share your experiences with others! Whether you want to share your favourite hotel, town, family outing, or sport you've experienced at Lake Garda, we'd love to hear all about it.


To Conclude...

We hope that you now have a better idea of what to expect from the accommodations at Lake Garda if you're going there this summer. And if you're not, then hopefully learning about all the wonderful accommodations will spur you on to book up a holiday there in the near future!!

Take care and see you next month.



Marcus and Sylvia
---