"Feel like staying somewhere really special? Then one of the wonderful Lake Garda villas could be for you"



Lake Garda villas come in many different shapes and sizes and offer a truely inspiring holiday experience.


Most villas are very old with wonderful architecture and occupy some of the most beautiful spots on Lake Garda.
Many were originally owned by influencial local families who wanted to enjoy relaxing at the lakeside with its awesome scenery.
You can also find a few modern villas, but most are full of history, charm and character that only a really old building can have.

---
Lake Garda Villas
---
It is important to note here that the villas at Lake Garda can really fall under 2 main categories. One is the type of villa where you rent the whole place to yourself and generally are self catering. The other type are often massive old villas and are too big for one group of people, so are therefore really villa hotels. There are quite a few hotels which also call themselves "villas", some were originally old villas but some just call themselves that to sound more appealing. So check out the details of each carefully as they can vary quite significantly.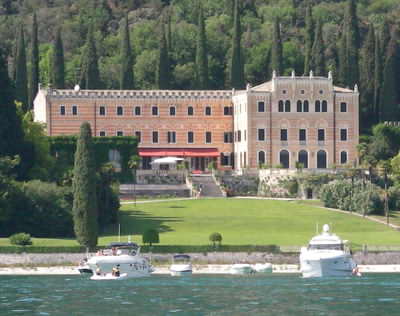 Independent Lake Garda Villas
These are villas which you can rent the whole building for a group of people. We did with an old villa near Garda (see picture below) when 11 of our family met here and enjoyed the fantastic location with spectacular views with 2 acres of garden to roam around in. This villa was old and could have used a little modernisation, it was never-the-less a very enjoyable and memorable stay.
While not cheap to rent, the great thing about these types of villas is having the whole place to yourself and experiencing how the rich used to pass their time! It's great for a large party to hang out or to enjoy that special celebration perhaps. Whilst you often have to get your own food there are usually plenty of places close by or why not have a barbecue in the garden whilst watching the sunset over the lake, like we did!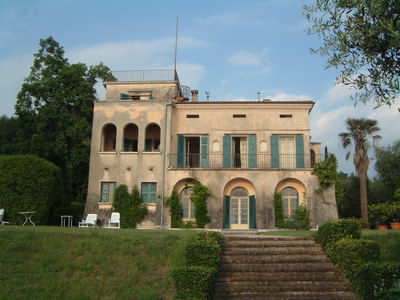 Lake Garda Villa Hotels
There are many ancient villas which now are beautiful hotels around Lake Garda. Again, these are often quite expensive but offer that unique and charming experience you can not get in a more run-of-the-mill hotel. Most offer great lakeside or lake view locations and usually have lovely grounds. If you fancy staying somewhere a bit more special than a usual hotel then this could be just what you are looking for! If you really want the ulimate experience though, check out the exclusive Lake Garda villas.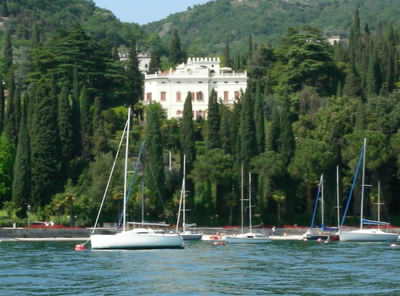 Exclusive Lake Garda Villas
There are some amazing and extremely exclusive villas here and if you are feeling flush, then you can get pampered and live like kings and queens! We have discovered some lovely exclusive Lake Garda villas, but only after some research and hunting around, as they are usually in very secluded and large grounds away from it all. These villas offer the ultimate in luxury and the finest rooms and dining you are likely to find anywhere! If you want to experience that once in a lifetime holiday then you can stay at villas which can cost you as much as 4 figures per night!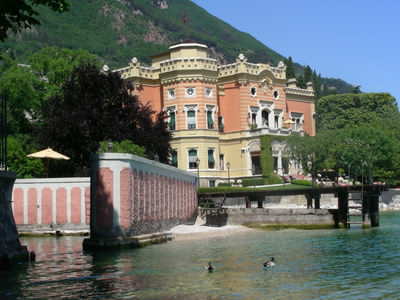 Which is the most stunning Lake Garda Villa you have stayed in?
Are you lucky enough to have stayed in a Lake Garda villa? Why not share your story about it and you are highly likely to get your own spot on our website! Your story could well feature on a dedicated web page and may even get in our newsletter too! How good would it feel to show your friends and family your own Lake Garda story on a well respected Lake Garda site! We love pictures as well, so feel free to send us your best shots and there will be no mistaking you then!
Other Great Lake Garda Villa stories
Click below to read more stories from other visitors to this page...



Click here to go from Lake Garda villas to the home page.