Spaghetti Eis
by Judy
(Huntington Beach, CA)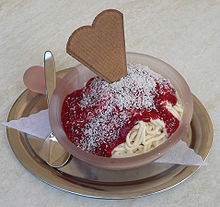 Bowl of Spaghetti Eis

In 2008 I couldn't wait to go to my favorite spot by the bus stop in Maderno for Spaghetti Eis. I was so disappointed to find they no longer serve this yummy concoction. Does anyone know where else to find Spaghetti Eis anywhere on Lake Garda?



Comment by Marcus & Sylvia of Lake Garda Revealed:

Wow Judy, that looks amazing!! I have never come across Spaghetti Eis before, but now that I see it, I really want to try it! It's making my mouth water just looking at your picture. Next time we go to Lake Garda, we are going to search the ice cream shops and try and find it.


If anyone else has been to a Lake Garda ice cream shop and had this recently, please let us know.
Join in and write your own page! It's easy to do. How? Simply click here to return to Ice Cream.