"There are Many Airports and Airlines You can use When Arranging
Your Flights to Lake Garda.
But Which Ones are The Best?"



The great thing about the flights to Lake Garda is the wide choice of different airports and airlines you can use to travel to this area. While some are a little further away, they are also near other great tourist destinations such as Milan and Venice, which can be used as an excuse for wonderful excursions on the way in or out!


Some airports are handier for one side of the lake than others, but whether you get from the airport to the Lake by train, bus, or car, all major routes go to the south end of the lake.
So in reality, the time saving driving or taking the train across the south side of the lake does not make a huge difference when flying to Lake Garda.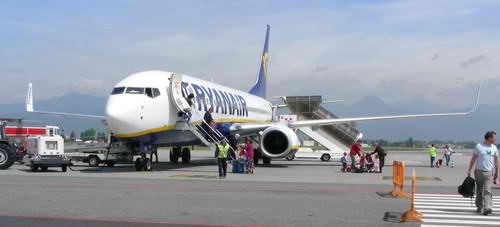 Other things to consider when you arrange your flights to Lake Garda will be flight times, parking your car at the departure airport, transfers on arrival, which airline you prefer to use or whether you are booking a holiday package deal.The major factor for most people is the flight cost and we will tell you what we have found from our experiences of flights to Lake Garda!




---
Flights to Lake Garda
---
Now we know from analysis of our website traffic that many people using this site fly from the UK to Italy to enjoy a great holiday at Lake Garda. Now although the flights themselves play a large part in peoples decision making process,
all too often people tend to forget about the much overlooked cost of parking your car at the departure airport.
We have found over the years that using the right company and booking early, usually helps to reduce the cost of this oft forgotten necessity! After trying many different companies out, we can thoroughly recommend Purple Parking in the UK, for great prices and services. Why not click the graphic below to find out how much it would cost to park your car at your local airport?
Discover where to fly to in Italy for your lake Garda holiday:





To look at a more detailed road maps, take a look at our Lake Garda maps page.

For airport transfers from the airport to your accommodation at Lake Garda, please scroll down to the bottom of this page.



Flights to Lake Garda via Milan - Bergamo (also referred to as Orio al Serio)
Although this airport is called "Milan" Bergamo, the good thing is it's located around one third of the way from Milan towards Lake Garda, well outside of Milan. It is therefore quite easy to get to the Lake by car as a few minutes drive takes you straight to the Autostrada (Motorway), where you can soon whizz along to the bottom of the Lake. We have driven to Desenzano from here in not much over the hour. Being a small airport also makes it pretty easy to navigate your way around and there are no long walks. The one thing to be wary of when looking up flights to this airport, is some people refer to it as "Bergamo" and some "Orio al Serio", which can be confusing. Just remember the code for this airport is "BGY" and then you'll be sure you're getting the right one.
Ryanair is the main airline flying to Bergamo (Jet2 also go here), and we have found that their flights here are often the cheapest flights to Lake Garda! Although Verona and Brescia airports are nearer to the Lake, we have often decided that the cost saving is well worth the extra 30 minutes drive. You can also take the shuttle bus from outside the terminal building into the town of Bergamo, and then get a train from Bergamo to your destination in Lake Garda.


Flights to Lake Garda via Verona - Valerio Catullo
This is Verona's main airport located very close to this famous city. We have not really used this airport much as the flight costs always seem to be higher. I am not sure of the reason for this but maybe it is something to do with the fact that the world renowned opera takes place here and so demand is always high. On the plus side, however, the location is great, especially for the east side of the lake which can be reached in around half an hour. If you are not worried about paying a bit extra but just want the quickest way to the lake, then this is one of your best options.


Flights to Lake Garda via Verona - Brescia
Brescia airport is not actually in Brescia at all...it is some way south of the town. As Brescia is not such a high profile Italian location, it is often referred to as "Verona Brescia". It is a small but modern airport, and is therefore easy to find your way around. From here you can hire a car or get a bus. Shuttles operate into the town regularly where you can catch a train if you wish. We have found this airport to offer some great deals on flights through Ryainair and is certainly high up on the list of options of flights to Lake Garda. We have used this airport several times but the only problem is that there is often only 1 flight a day into here, with many airlines, so there isn't much option on the time you can arrive and depart.


Flights to Lake Garda via Milan - Linate
The is Milan's main airport and is situated on the edge of this major city. While this is handy if you fancy popping in to the city, it can also mean lots of traffic if you arrive at the wrong time. I have driven around Milan before and do not find it the easiest city to navigate around. However, several major airlines fly here, so you have plenty of options to get here, but generally the cost is not the cheapest. Consider using this airport if you would like to explore the European fashion capital enroute, otherwise you may wish to consider other options.


Flights to Lake Garda via Milan - Malpensa
This is a minor airport for Milan and is situated some distance to the North East of the city. This is unfortunately heading the wrong way for Lake Garda and means really quite a long trip to get there. We haven't used Malpensa as we personally consider it to be a bit too far away for our liking. However if you wish to travel around and see other things apart from Lake Garda, then this airport could be worth looking at.


Flights to Lake Garda via Venice - Marco Polo
This is the main airport for Venice and is located close to this amazing city. If you have never been here before and fancy an excursion into Venice, I promise you will not be dissapointed. There really is no other city on earth like this place, it is totally unique in every way! Anyway before I get carried away I should tell you that while this airport is not especially close to Lake Garda, many airlines fly here, giving you a mulitude of options. Venice is a very popular tourist destination though, so prices can be higher (especially at certain times of the year).


Flights to Lake Garda via Venice - Treviso
This is a smaller, minor Venice airport and is located around half an hour North of the city. You can get some very cheap flights here but unless you really want to see Venice, or something else in this area then it is quite a long trip to Lake Garda and would be well down the list of preferred airports in our opinion.



AIRPORT

 

CODE FOR
TIME TO BOTTOM
AVERAGE
AIRLINES WHO
NAME
AIRPORT
OF LAKE GARDA
PRICES
FLY HERE
Milan - Bergamo
BGY
60 - 70 mins
V. good
R
Verona - Valleria Catullo
VRN
30 mins
OK
BA, GW, L, KLM
Verona - Brescia
VBS
30 mins
V. good
R
Milan - Linate
LIN
100 - 110 mins
OK
BA, E, L, KLM
Milan - Malpensa
MAL
120 - 130 mins
Good
BA, E, L, KLM, GW
Venice - Marco Polo
VCE
90 - 100 mins
Good/OK
BA,E,BMI,L,KLM,J2
Venice - Treviso
TSF
120 - 130 mins
V. good
R

 

<![if supportMisalignedColumns]> <![endif]>

Notes for table above
Flight info is based on travel from the UK. Also listed are some popular German airlines.
Under "airlines who fly here": R = Ryanair, BA = British Airways, E = Easyjet, BMI = British Midland, J2 = Jet2, GW = German Wings, KLM = Royal Dutch Airlines, L = Lufthansa
"Time to bottom of Lake Garda" means estimated driving time from the airport during normal driving conditions (not congested).
Average price guide is very much an estimate based on our experience, and is only meant as a very rough guide. Please check all options, as price is influenced by many different factors.



Airport transfers to Lake Garda
For those who do not want to hire a car, but would like to get whisked straight from the airport to their accommodation at Lake Garda in style and comfort, then an airport transfer is probably the way to go. Especially if there are several of you to share the cost of a car or a minibus, then this a nice option. If it is a special occasion or you just feel like being pampered then why not try out a stretched limo!! If you fancy looking into airport transfers, there are companies out there that can help you with this!


General advice for getting the best deals when choosing your flights to Lake Garda
If possible, avoid bank holidays.
If you can fly mid-week this can cut costs right down.
Try going before or after the school holidays (if you can).
Look at flying into one airport and out of another (single flights are sometimes cheaper).
Always book flights as early as possible. Booking well ahead often saves lots of money.
Look out for special deals from companies like Ryanair and Easyjet.


Click here to go from flights to Lake Garda to the home page