"Garda is a wonderful place, with an amazing location and loads to see and do"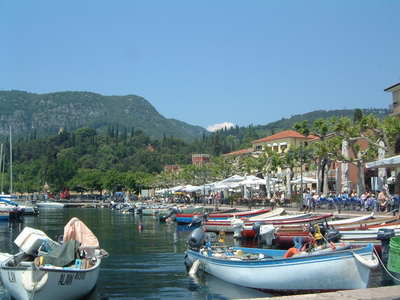 ---
Lake Garda - Garda town
---
This is the capital of the lake and it is easy to see why so many people come here! For a start, it is located in a huge sheltered bay with dramatic hills and mountains behind. It also has a massive lake front area which is so attractive, and further around there is a large beach area.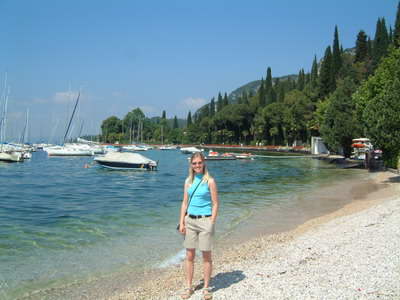 This is a place we are drawn to time and time again. We particularly love the huge amount of lakeside dining you can enjoy here. There are table and chairs under the trees and umbrellas for several hundred metres. It is the perfect place to have an evening meal and watch the sunset over the lake. Also, there is often live music here in the evenings which only adds to the great atmosphere!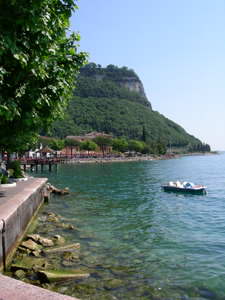 There are also loads of nice shops here and the quaint narrow streets leading up from the lake have plenty to offer. While some shops offer more expensive items, there are many which offer surprising bargains. We once bought a pair of shorts and a leather wallet for only 10 euros!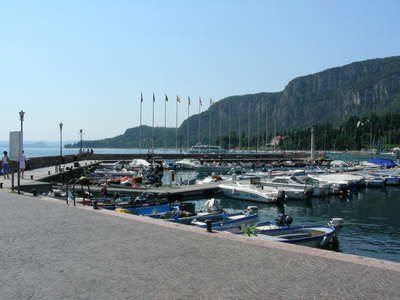 Not only is the lakeside so lovely, the hills behind Garda offer many great places to stay or eat which have a superb view down to the bay. The golf club too enjoys a particularly nice view... there are not many places you can tee off in these amazing surroundings!


Click here to go from Garda to the home page