"Information on Lake Garda Disabled Access Means Anyone can Enjoy this Beautiful Area"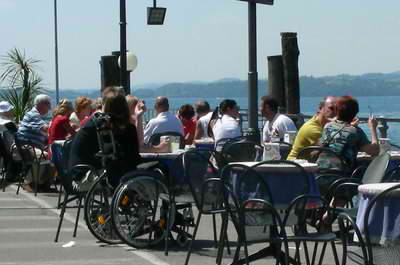 We have written this page on Lake Garda disabled access so no one misses out on coming here. As you are probably well aware, Lake Garda is partially located in the mountains, so you may think it is not the best place to go if you find it difficult to get around. However, while some places may be a little tricky for those of limited mobility, there are many great locations which are easy to navigate. So by planning ahead and going to the right places, we are sure you will have a fantastic holiday too!




---
Lake Garda Disabled Access
---
Boat travel
The great news is you will not have to miss out on going on the Lake Garda boats and ferries (one of our favourite activities). The car ferries have a large, relatively flat loading ramp and you can stay on the lower deck when the boat is on the move. The other smaller boats such as the hydrofoils and jet boats have a loading ramp to access the deck by. The boat crew will assist you in boarding and disembarking if you require it, and we have found crews to be very helpful and friendly.


Major Towns with good access
Salo - has a very wide, flat and lovely promenade which borders the lake and also many shops and restaurants on the front.
Sirmione - the majority of the old part of the town is flat with hard roads. It can get quite busy here though, so it may be more difficult to get around at peak times.
Garda - has good, flat access to the bay and also the shopping streets which lead down to it.
Riva - although mountains are right behind Riva, there is a surprising amount of flat streets here.
Desenzano - is pretty flat by the lake side and surrounding streets.
Other towns also have some flat lakeside areas but those mentioned above probably have the most extensive and easiest areas for Lake Garda disabled access. Some towns have quite steep streets and lots of steps, so are probably best avoided.


Toilets
Sometimes the public toilets are a bit limited and disabled toilets may not be too easy to find. It may be best to try and check ahead for these facilities, for peace of mind.