"Going on the Lake Garda Ferries is a Must! Find out Which Rides You can Take and how Prices Compare."


Taking the Lake Garda ferries really is our favourite way to travel around the lake. Especially as you travel north on the Lake, you can see just how dramatic the lakeside mountains are and see so much more than you can appreciate from the road! We really love going on the boats and usually take several trips on the water whenever we are there. It is such a relaxing and awe inspiring experience, a must in our book!






Also if you are thinking of driving from the UK to Lake Garda then you will also need to think about cross channel ferries. Find out more about the best ways to get across the channel with your car.





---
Lake Garda Ferries and Boat Rides
---
Cross Channel Car Ferries
I know a lot of Brits like driving to Lake Garda and at some point you will need to get across to mainland Europe. For most people the quickest and cheapest routes will be from Dover or Folkestone to Calais, Dunkirk and Boulogne. This short hop of around 90 minutes is well serviced by very large operators like P&O ferries, Sea France or Norfolk Line. They sail every hour or two through out the day and it is much less stressful than going to an airport. Book ahead and you can get some pretty good deals as well! We have recently got a return crossing for around £35 or so, which really is good value.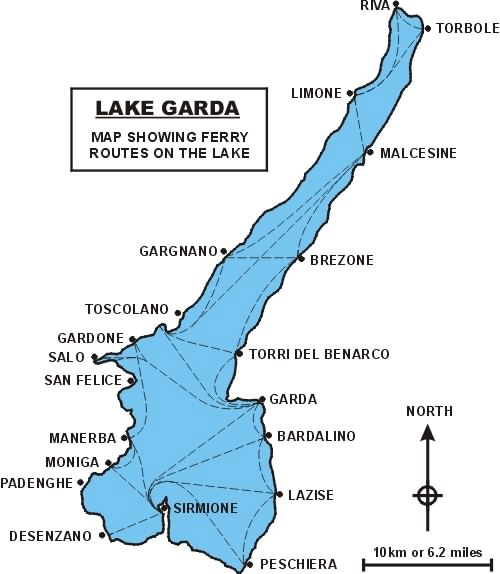 Car ferry
The car ferries offer the best value for money. Although not as quick as some of the other boats, they are by far the cheapest. They also give you the chance to take your car across the lake, which can actually often be a lot quicker than driving. The lower deck is for vehicles to drive on and off. The middle decks have lots of seating inside with a bar, toilets etc. The top deck is open and this is where we love to sit and sun ourselves while admiring the fantastic scenery.
The lake is quite long, so going from one end to the other on one of these ferries will take quite some time. They also tend to stop at most of the major towns en-route. However, they are cheap and if you are not in a hurry then they are definitely the way to go!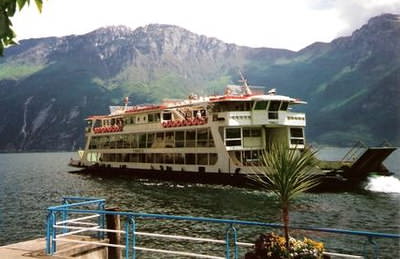 Hydrofoil
The hydrofoils are quite an experience, as you are whisked over the Lake at high speeds! These boats really are quick and you can get anywhere on the lake in little time. They hold far less people than a car ferry (on 2 small decks) and they tend to stop at less places, taking routes straight from one of the largest lakeside towns to another. These boats are expensive however, and will cost at least 2 or 3 times more than a car ferry, so if you are not in a hurry then bear this in mind. We must say though, they are a lot of fun even if you only have a go on them once just to experience them.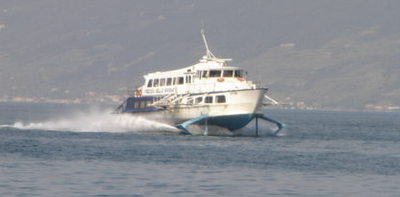 Motorised Catamaran
These are really an alternative to a hydrofoil, offering fast but costly rides. They are small like a hydrofoil and have seats on 2 small decks. While they do not skim over the surface like a hydrofoil these boats are still pretty fast and much quicker than the car ferries. Again they tend to run on more limited, major routes across the lake. The cost is similar to the hydrofoil, so pretty expensive and way more than the Lake Garda ferries.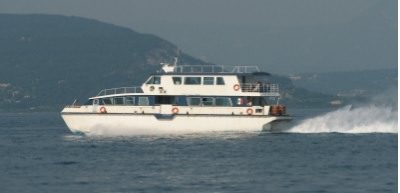 Paddle steamer
This is a very relaxing and romantic way to travel Lake Garda. Take yourself back in time and enjoy a slow and leisurely boat ride across this beautiful lake. They only run from certain towns, such as Desenzano, Salo, Limone, etc., and you will have to plan your trip carefully to make sure you get back on time. But this is definitely an experience well worth doing.







Tickets & Boat Timetables
Tickets can be purchased at any major port. You will find a kiosk close to the landing station for the boats where you can pick up current timetables and purchase tickets. Some minor ports are not always staffed and if this is the case you can purchase the tickets on board the Lake Garda ferries. Generally the bigger and more popular the town, the more options you have in terms of boat types and times.


Top Tips
Always make sure you can get a return boat ride back on time. Many boat services end by 5 or 6pm in the evening, so plan ahead.
The ferry and boat services only run on a limited schedule over winter.
If you sit out on the top deck for a long time don't get sunburnt!
Lake Garda ferries are by far the cheapest way to travel on the water.
You can also charter private yachts on the lake if you feel like splashing out!


Lake Garda Ferries - More Information

To find out current prices and further information about Lake Garda Ferries click on this link.


Click here to go from Lake Garda ferries to the home page