"For a healthy way to beat the hunger, try some Lake Garda fruit"


We love the fresh Lake Garda fruit you can get here. It's really refreshing to eat the juicy fruit in the summer time and, being Italy, it's usually grown locally. After all the ice cream we eat here, it makes us feel like we are not being too unhealthy!!





---
Lake Garda fruit
---
Being more traditional than some other countries, you will often find nice grocery shops in the towns. You will also find fruit at the local markets and it can often be a good price here. Another place you will find it is in little roadside stalls filled with whatever fruit is being picked at that time.



Of the fruit found here, I can thoroughly recommend the cherries, grapes, peaches and nectarines, melons and strawberries. There is plenty more to choose from; you will usually find plenty of apples, oranges, lemons, pineapples, kiwi fruit and others. Whenever we stay in a self catering accommodation, we always buy a great selection of fruit and help ourselves whenever we feel like it...lovely!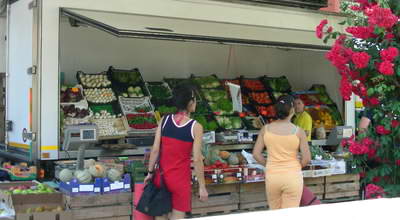 Click here to go from Lake Garda fruit to the home page