"Some of the Lake Garda Remains and Ruins are Very Impressive. How About the Largest Roman Villa in Northern Italy for Starters?"



---
Lake Garda Remains and Ruins
---
Grotte di Catullo
At the end of the peninsula at the Lake garda town of Sirmione surely lies the most impressive Lake garda remains and ruins. This massive villa (the largest example in Northern Italy) lies in a prime location, surrounded by the blue / green waters of the lake. It was built in the first century BC and the sheer scale of these Roman ruins is truly amazing.
Apart from the stunning location on the lake, there is also another reason why the Romans flocked here. There is a natural source of thermal water rising from below the lake. These sulphur-rich waters are at a temperature of 69 C and are thought to have curative powers. Many people still bathe in these thermal waters which is now piped to some buildings in Sirmione. Why not go have a soak and get rid of those aches and pains!


Roman arena at Verona
This Roman amphitheatre, at the close-by town of Verona, is another Roman jewel. This is the third largest Roman arena built and was completed in 30 AD. It is very well preserved and it still used for the famous Verona opera. At around 140 by 110 metres in size and with 44 stone tiers, this really is a sight to behold. Even if you are not especially into looking at old buildings, this will definitely impress you.







Desenzano
At Desenzano you can find the remains of another Roman villa, and while not as impressive at the one at Sirmione, this one has excellent mosaics. These are thought to be some of the best preserved examples of Roman mosaics anywhere. This 3rd century villa is well worth seeing if old Roman remains are your thing, and are just another example of the fabulous Lake Garda remains you can see here.


Castles
Castles can be found in many places around Lake Garda. You can't miss the "Rocca Scaligera" at Sirmione which dominates the entrance to the whole town. You can only get access on land to Sirmione by the drawbridge to the castle. Other fine examples of castles are found at Torri del Benarco, Malcesine, Peschiera and Desenzano. You can trace many of these famous castles back to the Scaligeri family by the fishtail style of the battlements, which is their signature.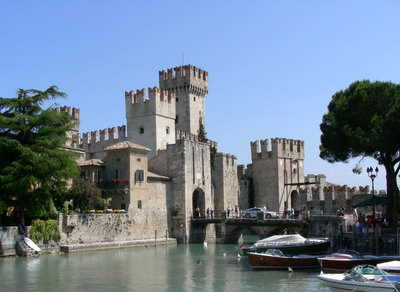 Engravings
You can find ancient engravings in the rocks around Lake Garda. These are known as "Graffiti" and provide an interesting insight into ancient times. We came across this engraving on a path leading up the hill from a villa we stayed in near Garda.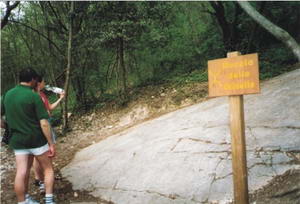 These are just some of the Lake Garda remains and ruins you can find. There are many more, and if you like exploring history, you are going to love Lake Garda!