Why is this lake so popular for windsurfing? A quick look at the Lake Garda wind maps reveals the answers!


The reliable thermal winds (see Lake Garda wind maps below) in the north part of the lake and the awesome surroundings ensure this is one of the best places to windsurf on the planet!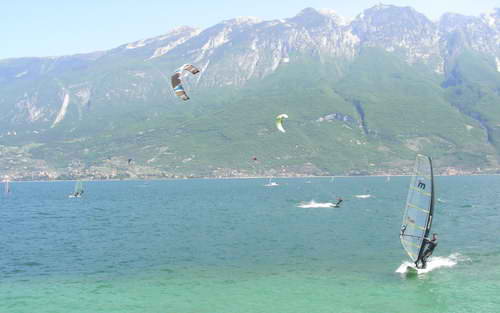 Peler or Vento - early wind
This wind usually starts at around 7am and will last until 9am. It is caused by the temperature difference between the air in the mountains which has cooled overnight and the warm valley air from the south. This difference is quite considerable and is the reason why the early wind from the North is usually the strongest of the day. If you are a dedicated surfer then an early wake up call is going to be well worth it to tame the conditions found at this time of day.


Ora - afternoon wind
This wind usually starts at around noon and will last until 6pm. It is caused by the sun heating up the mountains in the north. This in turns makes the air rise and sucks the colder air from the south. The resulting wind from the South is then funnelled into the narrowing valley which causes it to speed up. While the windspeed is not as good as the Peler the duration is much longer and therefore gives you all afternoon to enjoy yourself!





---
Lake Garda Winds
---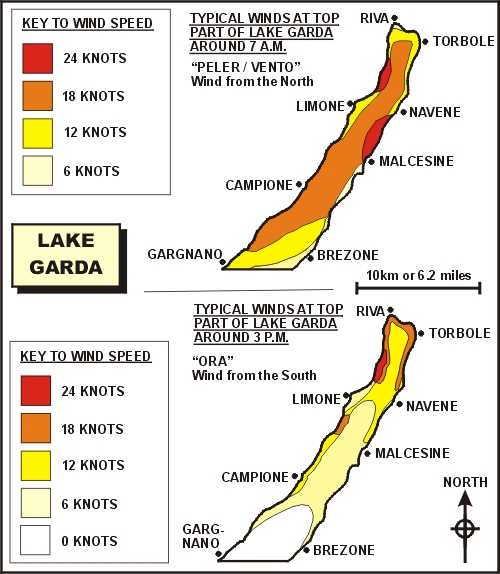 Click here to go from Lake Garda wind maps to the home page