"Sirmione is, in many people's opinion, the jewel in the crown of Lake Garda"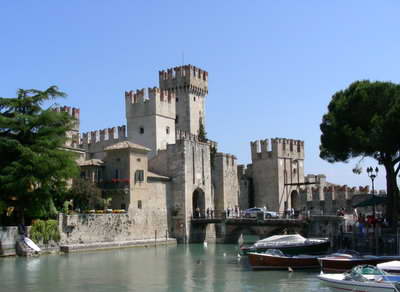 ---
Lake Garda - Sirmione
---
Sirmione is one of the most popular towns to see on Lake Garda...many would argue that it's THE most popular town! Its stunning location means that by car or on foot you have to enter the town by going over the bridge and through the castle walls. Straight away, you know you are somewhere completely unique and special! The town is very quaint and charming, and unlike anywhere else you are ever likely to see!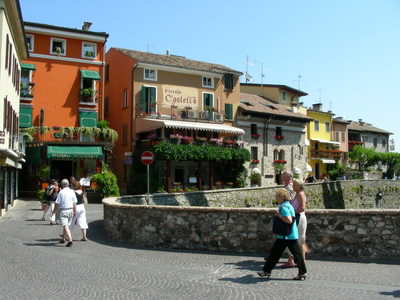 The town is full of tiny narrow streets, with loads of shops, restaurants and a suprising number of hotels for its size. The main centre street is the only through way going from the top to bottom of town and so consequently gets very busy. Out of anywhere on the lake this is probably the most congested, as it has a very limited land area and is extremely popular with tourists. If you do not enjoy large crowds, then try to come early or out of season. Car parking is also at a premium (and expensive), so allow plenty of time or take the boat there which drops you off right in the town.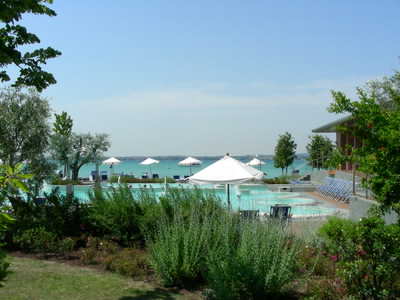 The water around Sirmione is particularly turquoise and we love the colour of the lake here. It is also famous for its thermal springs, which emerge from under the lake at 69 degrees celsius, and for centuries has been bathed in for its special sulphur-rich healing properties. The Romans first discovered this around 2000 years ago and people have been coming back ever since. There is a large thermal spa in the town which is sourced by these thermal spring waters.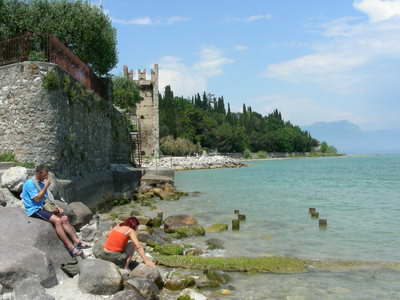 The town is also famous for its Roman ruins which can be found right at the end of the peninsula. Here, you can wander round the remains of the largest Roman villa in Northern Italy. Even back then, the Romans knew something special when they saw it, and this villa was situated on probably the most desirable piece of land around Lake Garda. Indeed, this town is a total one-off, so really try to see it if you can, as it is very special.


Click here to go from Sirmione to the home page