"Swimming in Lake Garda
is the best way to cool off
on those hot summer days"


If you enjoy a splash around, then swimming in Lake Garda will be something you will love doing! For a start, there are many places you can do it and the water at Lake Garda is so pure and clear, it makes swimming a real pleasure. It can also be the best way to cool off here when the weather really gets hot in the summer time!




---
Swimming in Lake Garda
---
As a general guide, we have found that the lake is pleasantly warm enough to swim in from about May through to September/October time
(see water temperature guide)
. You will find the water temperature will vary due to the depth of water and position on the lake. Generally, the waters around the edge of the lake are much shallower in the wider, most southern part of the lake. It can also often be a few degrees warmer in the southern lake waters. (To have a look at how deep the water is, look at the map showing
water depths in Lake Garda
). The south part of the lake is much less sheltered than the mountainous north. The lake is sourced from the mountains at the top of the lake, so the water in the north end of the lake is clearer and colder.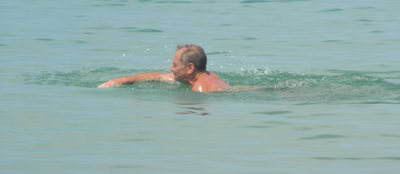 Swimming in Lake Garda is also probably more relaxing away from the busy areas, such as Torbole, where there can be tons of windsurfers. There are many quiet areas on the lake with nice beaches where swimming is the most enjoyable. The waters of the lake are also generally very calm, but sometimes the wind can get up and makes it a little choppy. Mainly though, the only small waves you see are the wakes made from passing boats.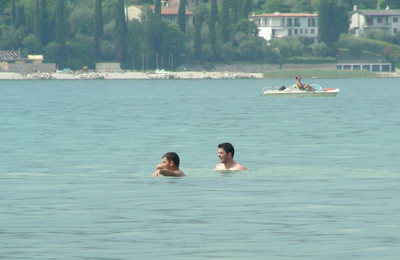 Remember that although the lake is much shallower in the south of Lake Garda, this is generally a very deep lake and you cannot wade out far before the water will be up to your neck. Less confident swimmers or smaller children should keep close to the shore so as not to get out of their depth. The waters in the north part of the lake get very deep in a very short distance from the shoreline, so be extremely careful here!


The beaches and lake floor near the shoreline are mainly shingle with some small rocks under the water. These are generally smooth from the water washing over them all the time. If you have sensitive feet though, then consider swimming with some sandals on if you want to wade around in the lake too. You can swim anywhere in the lake, but our favourite places are Garda, Lazise, Padenghe and the Toscolano/Maderno area.


Click here to go from swimming in Lake Garda to the home page