"Toscolano-Maderno are 2 towns joined together on a headland which give loads of great lake views"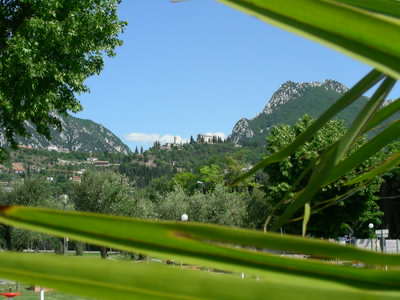 ---
Lake Garda - Toscolano-Maderno
---
Toscolano-Maderno may be 2 places joined together, but approaching from the north or south gives quite different impressions to the 2 sides. Toscolano, approaching from the north, is quite ordinary and there is even a little bit of lakeside industry, which is very rare at Lake Garda. If you drive down to the end of the headland at Toscolano you will find lots of campsites which have great views, and often beaches right next door.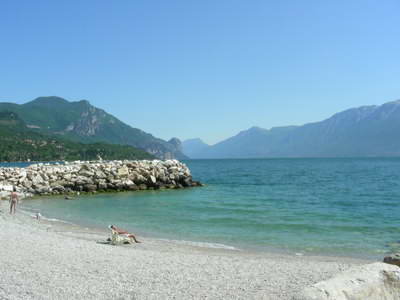 We particularly liked the view northwards from the Toscolano beaches, which is lovely. There are also lots of smaller beaches close together which are split apart by rocky divisions and the natural curve of the coast here. The view back inland is also great, with the mountains rising steeply to the north and small villages with churches perched high up on the slopes.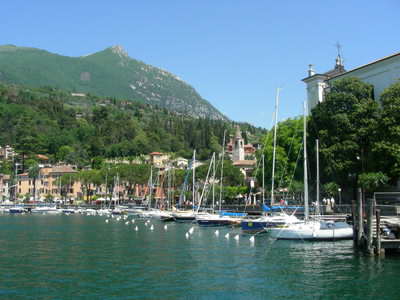 Maderno, approached from the south, is very picturesque and has a large bay surrounded by hotels and restaurants. The bay also features a large fountain and you will always see plenty of yachts gently bobbing on the ripples of the lake. It is definitely the more pretty side of town and has some very nice hotels.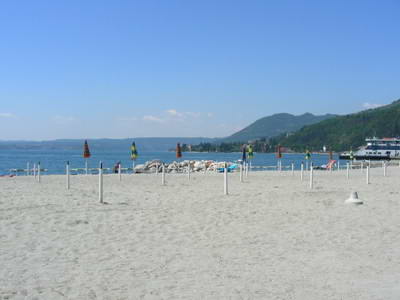 One of the other really nice aspects of Maderno is the south facing sandy beach. While this sand has obviously been put on top of the shingle, it does make it nicer for walking and lying on, and gives it a more seaside feel. There is also a large beach bar here and lots of places to hire large beach umbrellas and chairs. You can rent boats from here and the ferries run to here regularly.


Click here to go from Toscolano-Maderno to the home page